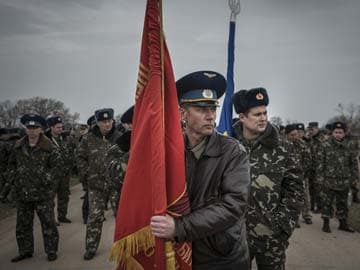 Moscow:
Russia signalled for the first time on Friday that it was prepared to annex Ukraine's Crimea region, significantly intensifying its confrontation with the West over the political crisis in Ukraine and threatening to undermine a system of respect for national boundaries that has helped keep the peace in Europe and elsewhere for decades.
Leaders of both houses of Russia's Parliament said they would support a vote by Crimeans to break away from Ukraine and become a region of the Russian Federation, ignoring sanction threats and warnings, from the United States and other countries, that a vote for secession would violate Ukraine's Constitution and international law. The Russian message was yet another in a series of political and military actions undertaken over the past week that outraged the West, even while the Kremlin's final intentions remained unclear.
As fresh tensions flared between Russian and Ukrainian forces in Crimea, the moves by Russia raised the specter of a protracted conflict over the status of the region, which Russian forces occupied last weekend, calling into question not only Russia's relations with the West but also post-Cold War agreements on the sovereignty of the nations that emerged from the collapse of the Soviet Union.
The developments underscored how quickly the crisis has evolved. Earlier this week, President Vladimir Putin of Russia had said he did not foresee the possibility of the Crimean Peninsula becoming part of Russia, but on Friday Russia's parliamentary leaders, both strong allies of Putin's, welcomed a delegation from Crimea's regional assembly and declared that they would support a vote to break away from Ukraine, now scheduled for March 16.
The referendum - barely a week away - has been denounced by the fledgling national government in Kiev, which said it would invalidate the outcome and dissolve the Crimean Parliament. President Barack Obama has also rejected the referendum, and the U.S. government announced sanctions Thursday in response to Russia's de facto military occupation.
Russia denounced those sanctions in a blunt rejoinder Friday evening, posted on the Foreign Ministry website. The statement said Russia's foreign minister, Sergei V. Lavrov, had spoken by telephone with U.S. Secretary of State John Kerry and warned that "hasty and ill-considered steps" to impose sanctions on Russian officials "would inevitably backfire on the United States itself."
Russia's Interfax news agency reported that Lavrov and Kerry would soon meet again. A senior State Department official traveling with Kerry, who was flying back to Washington after a trip to Europe and the Middle East, confirmed Kerry had spoken with Lavrov, but said it was unclear when they would meet again.
The Russians also sent menacing economic signals to the financially strapped interim central government in Kiev, which Russia has refused to recognize. Gazprom, the Russian natural gas monopoly, which supplies Ukraine with most of its gas, warned that it might shut off supplies unless Ukraine paid $1.89 billion owed to the company.
"We cannot deliver gas for free," Russian news agencies quoted Gazprom's chief executive, Alexei Miller, as saying.
Gazprom cut off gas to Ukraine for nearly two weeks in January 2009, causing severe economic problems for Ukraine and for other European customers who were dependent on supplies delivered through Ukraine.
Valentina I. Matviyenko, chairwoman of the upper house of the Russian Parliament, the Federation Council, compared the planned referendum in Crimea to Scotland's scheduled vote on whether to become independent from Britain. She did not mention that the national government in Britain had agreed to hold a referendum, while the Ukrainian government has not.
The speaker of the Russian lower house, Sergei Y. Naryshkin, echoed Matviyenko's remarks. "We will respect the historic choice of the people of Crimea," he said.
Their assertions came a day after Crimea's regional assembly voted in a closed session to secede from Ukraine and apply to join the Russian Federation, and to hold a referendum for voters in the region to ratify the decision. On Friday, a delegation of lawmakers from Crimea arrived in Moscow to lay the groundwork for joining Russia, strongly supported by senior lawmakers.
In another telling sign of Russian government support, the Crimean delegates were cheered at an officially sanctioned rally in central Moscow that was shown at length on Russian state television, with songs and chants of "Russia, Moscow, Crimea." News agencies quoted the police as saying 60,000 had people attended.
Even if the referendum proceeds, it was unclear what would happen next, given the wide gap between the positions of Russia and the West - most notably between Putin and Obama, who spoke for an hour by phone Thursday night.
According to the White House, Obama urged Putin to authorize direct talks with Ukraine's new government, permit the entry of international monitors and return his forces to the bases that Russia leases in Crimea.
In a statement, the Kremlin offered a starkly different account of the phone call, emphasizing Russia's view that the new government in Kiev had no authority because it was the result of what Putin called an "anti-constitutional coup" last month that had ousted Viktor Yanukovych, the pro-Kremlin president.
The official Russian account of the phone call went on to say that the current Ukrainian leadership had imposed "absolutely illegitimate decisions" on the eastern and southeastern regions of the country, where pro-Russia sentiment is widespread. "Russia cannot ignore appeals connected to this, calls for help, and acts appropriately, in accordance with international law," the statement said.
In the United States, Obama was taking a wait-and-see attitude. He spoke by phone to Chancellor Angela Merkel of Germany, which has been reluctant to pursue muscular sanctions against Russia because of the deep and interwoven economic relationship between the two countries. He traveled to Florida for an education speech and then a weekend off with his family, but aides promised that he would be monitoring the crisis.
"We're hopeful that in the next few days, we'll get greater clarity about whether or not the Russians are willing to take some concrete steps toward this off-ramp here," said Josh Earnest, a White House spokesman.
In Kiev, anti-Russian sentiment was hardening. The Right Sector movement, a nationalist group that was important in the deadly protests last month that drove Yanukovych from power, announced that its leader, Dmytro Yarosh, would run for president. Andriy Tarasenko, chairman of its local branch, also said the group was prepared to fight, in Crimea and elsewhere, "if the Kremlin tramples on us further."
With Washington and Moscow trading heated accusations of hypocrisy on the issue of respecting state sovereignty, validating Crimea's secession would carry pointed political risks for Putin, given longstanding demands for independence from Russia by its own similarly autonomous republics in the Caucasus, including Dagestan and Chechnya.
Michael A. McFaul, a former U.S. ambassador to Russia, noted the parallel in a sharp post on Twitter. "If Russian government endorses Crimean referendum," McFaul wrote, using abbreviations needed for a 140-character limit, "will they also allow/endorse similar votes in republics in the Russian Federation?"
The West, which has insisted that the Ukrainian people are entitled to decide their future without interference from Russia, faces similar challenges as it seeks to explain why the people of Crimea should not necessarily decide their own fate.
The United States and its European allies typically support self-determination, but have opposed independence for regions within their own borders, like Scotland in Britain or Catalonia in Spain.
There was no sign Friday that Russian armed forces were relaxing their tight clench on the Crimean Peninsula, with military bases surrounded and border crossings under strict control. There were news reports late Friday that pro-Russian militants had smashed through the gates of a Ukrainian air force base in the port of Sevastopol housing 100 Ukrainian troops, but that no shots had been fired. There were also reports that a number of Ukrainian journalists had been beaten by masked attackers and were missing.
For the second consecutive day, an observer mission from the Organization for Security and Cooperation in Europe, the 57-member organization that includes Ukraine and Russia, was prevented from entering Crimea at a checkpoint blocked by armed men.
Astrid Thors, an OSCE envoy who had gone to Crimea earlier in the week, said in a telephone interview from Amsterdam that she had faced noisy, threatening crowds chanting pro-Russian slogans during her visit and had been forced to leave. Thors, the OSCE's high commissioner for national minorities, said she could have experienced the sort of predicament faced by a senior U.N. diplomat, Robert H. Serry, who was chased out of Crimea by gunmen this week.
"There was a risk the same could happen, that our movement could be hindered by the crowds," Thors said. "We took precautionary principles. We shortened our stay."
© 2014, The New York Times News Service