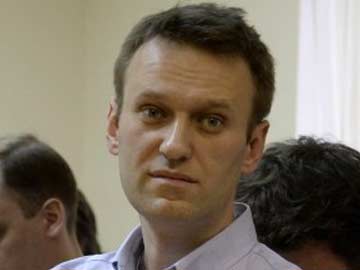 Moscow:
Russian investigators on Wednesday charged two allies of prominent opposition leader Alexei Navalny with fraud linked to the financing of his Moscow mayoral bid and will issue a warrant for a third aide.
Navalny associate Nikolai Lyaskin has been placed under house arrest while a second aide, Konstantin Yankauskas, has been ordered to remain in Moscow over allegations that they misappropriated public donations to Navalny's mayoral campaign last year, Russia's Investigative Committee said.
A third close ally of Navalny's, Vladimir Ashurkov, is also wanted in connection with the alleged fraud and will be put on the wanted list, investigators said in a statement.
Navalny, the 38-year-old lawyer and anti-corruption blogger who became the charismatic leader of protests against President Vladimir Putin in 2011-12, is under house arrest while on trial in another fraud case.
He came second in Moscow's mayoral election last September, polling more than 27 per cent of the vote, but has faced a number of criminal cases which his supporters have denounced as politically motivated.
He is currently on trial along with his brother Oleg on charges of stealing and laundering 27 million rubles ($790,000, 580,000 euros) from French cosmetics company Yves Rocher.
In July last year, Navalny was convicted of embezzlement and sentenced to five years in jail but walked free the following day in a surprise move that allowed him to run for mayor. His sentence was later converted to a suspended term.