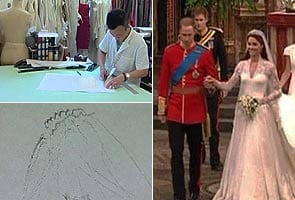 New York:
The Faviana design house in New York specialises in reproducing "hit" dresses worn at events such as the Oscars and selling them at a fraction of the cost of the original.
On Friday morning its team of designers awoke early and began sketching the dress worn by Catherine, the Duchess of Cambridge, at her wedding to Prince William in London.
By 8 am they had a design and the race to produce it had begun.
One of Faviana's most successful dresses to date is their interpretation of Chelsea Clinton's wedding dress.
They hope that the dress worn by the Duchess of Cambridge will be their best-selling bridal dress.
Faviana's head designer, Shala Maradi, said she thinks it will start a trend of more classic wedding dresses.
"She brought back the sleeve to the market. She brought back lace for the bridal market, and a very simple, elegant classic look," she said.
Maradi said the dress also reminded her of the one worn by Grace Kelly at her wedding in Monaco in 1956.
Faviana hopes to have a final copy of the dress completed by Saturday. The company will then send the design to China to be mass produced.
Faviana plans to sell the reproduction dress for between 15-hundred and 2-thousand US dollars.
Get Breaking news, live coverage, and Latest News from India and around the world on NDTV.com. Catch all the Live TV action on NDTV 24x7 and NDTV India. Like us on Facebook or follow us on Twitter and Instagram for latest news and live news updates.