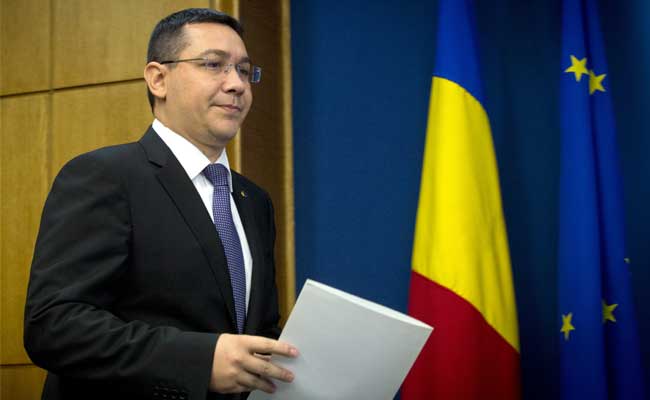 Bucharest:
Romania's embattled Prime Minister Victor Ponta survived a no-confidence vote on Tuesday, barely a week since the start of his trial on wide-ranging corruption charges.
The 43-year-old Social Democrat leader has faced relentless calls to stand down over the graft case, which is complicating government efforts to strike a new financial deal with the IMF and the EU.
A total of 207 MPs voted in favour of the no-confidence motion, less than the 275 needed to topple the government, while outside parliament 2,000 people staged a protest calling for Victor Ponta's resignation.
Victor Ponta is the first Romanian head of government to stand trial while still in office but denies charges of fraud, tax evasion and money laundering.
He did not attend the first hearing in his trial on September 21.
"The continued tenure of the prime minister is deeply immoral and unjust," said the head of the centre-right opposition, Alina Gorghiu.
Since Victor Ponta's indictment in June, "nobody calls him, listens to him, or invites him to visit," Alina Gorghiu said, referring to the premier's isolation on the Romanian and international political scene.
The corruption investigation sparked multiple calls for Victor Ponta to resign, but he has refused to quit as premier although he stepped down as head of the Social Democrat party in July.
Probes by the DNA anti-corruption agency have cost a string of prominent Romanians their jobs in recent years.
The government is due to begin negotiations with the IMF and EU to discuss a new lifeline for Romania, one of the poorest countries in Europe, after the last agreement expired at the weekend.
Romania emerged from severe recession 2008-09 thanks to a 20-billion-euro ($22 billion) bailout.