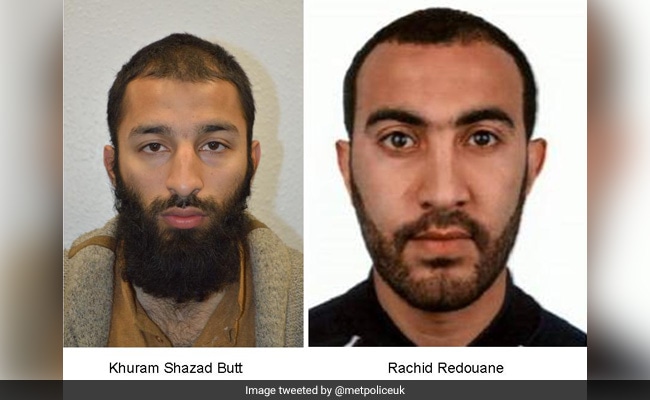 Islamabad/London:
Pakistani authorities raided a restaurant owned by a relative of a Pakistani-origin terrorist responsible for carrying out the deadly terror attack in London that killed seven people, according to a media report.
Khuram Butt
, 27, along with two other terrorists plowed a van into pedestrians on the iconic London Bridge and then started stabbing revellers in nearby Borough market last Saturday, killing seven people.
The UK police yesterday identified two of the attackers
- Pakistani-origin Butt and Moroccan-Libyan Rachid Redouane. This morning, dozens of plain clothes officers in Pakistan searched a restaurant of one of Butt's relatives in the city of Jhelum, 60 miles south east of Islamabad, The Telegraph reported.
The officers - believed to be from Pakistan's Inter Service Intelligence agency (ISI)- were seen outside the premises thought to belong to Nasir Butt, a well-known businessman in the area, it said.
One official at the scene said that the British officials had said that they suspected Butt had been radicalised in the UK rather than in Pakistan, but that they were carrying out searches of relatives' houses as a precaution.
"Our British counterparts told us they don't think he was radicalised here, and we think it is probably more likely that he was trained in Syria. But we are searching the homes of any relatives connected to him and we are tracing all telephone calls made by family members," the official said.
Butt from Barking is believed to have been born in the Jhelum area. His father, Saif, is believed to have owned a furniture shop in Jhelum before emigrating to the UK in 1988 with his family.
Jhelum lies in a part of Pakistan where many members of the British-Pakistani community originally hail from. The nearby city of Mirpur, in Pakistan-occupied Kashmir, is known as "Little England" due to its large British Pakistani community.
Meanwhile, the brother of Manchester suicide bomber Salman Abedi has been released by the UK police. Ismail Abedi, 23, was arrested in Chorlton on May 23, a day after the terror attack on Manchester Arena which killed 22 people, including seven children.
Ten men remain in custody for questioning, while a total of eight people have now been released without charge, Greater Manchester Police said.
Salman Abedi, 22, whose family are believed to be of Libyan origin, died after detonating an improvised explosive device as people began leaving a show by US singer Ariana Grande.
His father, Ramadan Abedi, was arrested in Tripoli on May 24, along with Salman's brother Hashim, who Libyan security forces said was "aware of all the details" of the attack.