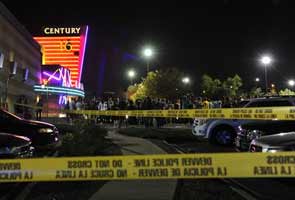 Centennial, Colorado:
Relatives wept in court on Tuesday as frantic 911 calls were played from a US theater shooting that killed 12 people last year, as prosecutors closed their case for the alleged gunman to face trial.
The court heard how suspected killer James Holmes purchased more than 6,000 rounds of ammunition in the months before last July's shooting in Colorado, and rigged up elaborate booby-traps at his apartment.
Defence lawyers will call witnesses Wednesday, the third day of hearings, to decide if there is enough evidence for Holmes to go on trial. They are expected to highlight his mental instability as a possible reason he should not do so.
In the first of 41 harrowing emergency calls made in a 10-minute period in Colorado, 30 loud booms could be heard in less than half-a-minute, making it difficult for the 911 dispatcher to distinguish what was being said.
In another, six minutes after the first call was logged at 12:38 am, 14-year-old Kaylan Bailey told the emergency operator her two cousins had been shot, and that one of them did not appear to be breathing.
"We need to start CPR (cardio-pulmonary resuscitation) on your cousin who's not breathing," said the operator.
"I can't hear you," responded Bailey, as chaos unfolded in the theater in Aurora, where Holmes -- clad in body armor and a mask -- threw at least one smoke-bomb type device before opening fire in the early hours of July 20.
The hearings opened Monday with officers choking back tears as they recalled scenes after the slaughter, which left 12 dead and 58 injured by gunshots at a packed midnight screening of the Batman film "The Dark Knight Rises."
The Aurora massacre revived the perennial US debate over gun control -- an issue re-ignited even more intensely by last month's shooting of 20 young children at a Connecticut elementary school.
Tuesday's hearing heard testimony from federal firearms supervisor Steven Beggs that Holmes made at least 16 purchases from May to July 2012 including four firearms, incendiary devices and almost 6,300 rounds of ammunition.
Holmes's lawyers could argue that he is mentally unfit to stand trial.
Defense attorney Tamara Brady asked Beggs: "Is there any process in Colorado to screen out purchases by a severely mentally ill person?"
"No," replied Beggs, who detailed the purchases made online and in person by Holmes.
FBI bomb technician Garrett Gumbinner said Holmes told investigators after being arrested that he had booby-trapped his apartment, in an attempt to draw emergency responders away from the theater shooting site.
Officers found a trip wire at the door of his home, rigged to set off flame and sparks that would catch the gasoline-soaked carpet and go on fire.
There were six-inch fireworks shells filled with improvised thermite, a hot-burning explosive.
"You can't put it out with water," Gumbinner told judge William Sylvester. There were also three containers of improvised napalm, 11 bottles of gasoline and other chemicals intended to act as fire accelerants, he said.
There were three systems in the apartment intended to initiate the explosive devices, including one linked to a trash bag near the apartment dumpster by a remote control.
Curious behavior by Holmes during police questioning was also recounted: At one point he tried to stick a metal staple into a power socket. At another he played hand puppets with gloves that had been put on him to preserve evidence.
Prosecutors are trying to build up their case that the shootings were a premeditated act of mass murder, and identifying Holmes as the lone shooter.
Supporting that strategy, Aurora police officer Tom Welton testified that Holmes made postings on two dating websites earlier in July, asking "Will you visit me in prison?"
Prosecutors wrapped up their evidence in the hearing by listing all the victims by name, the injuries they suffered and the charges -- more than 160 in all -- filed on behalf of each.