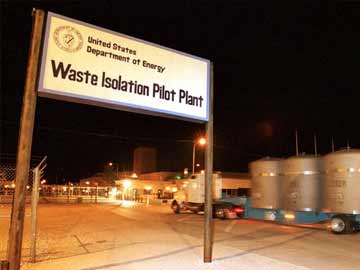 Washington:
A total of 13 employees of a New Mexico underground nuclear waste site were exposed to radiation, test results showed on Wednesday.
The workers tested positive for americium-241, an isotope prevalent in the type of radioactive waste - transuranic waste containing mostly plutonium - at the nation's first underground repository for such material.
The radionuclide is also used in commercially available smoke detectors and is a contaminant in nuclear weapons manufacturing.
But the manager at the Department of Energy's Waste Isolation Pilot Plant, Jose Franco, said the contamination was likely minimal and stressed that more testing would be needed.
"It is premature to speculate on the health effects of these preliminary results, or any treatment that may be needed," Franco said in a statement.
"Airborne contamination was likely at very low levels."
As soon as the airborne radiation was detected on February 14, WIPP's ventilation system automatically switched to filtration mode in order to prevent air exchange with the surface.
No employees were working underground at the time, according to officials at the plant.
Department of Energy officials had stressed that there was no danger to human health or the environment.
"There is no risk to family or friends of these employees," Franco said about those who were exposed to the radiation, adding that more samples would be taken in the coming weeks.
He said the employees were notified within about 12 hours of preliminary sample results.
The workers had been performing above-ground operations and federal oversight duties at the site when the radiation was detected.
The site was shut down and not performing active operations at the time.
"Since the event, only essential personnel have been allowed access to the site," an Energy Department statement said. "Upon leaving the site, each individual is checked for any external contamination."
Waste at WIPP is dumped 2,150 feet (655 meters) underground in disposal rooms excavated in an ancient, stable salt formation.
Earlier this month, an underground blaze prompted the evacuation of a different part of the site, after a truck hauling salt caught fire.
Several workers suffered smoke inhalation. But officials said the blaze was nowhere near radioactive material.
Workers at the repository mostly seal away plutonium and other radioactive materials used for defence research and the production of nuclear weapons.
Some of the waste comes from the Los Alamos National Laboratory, about 300 miles (500 kilometres) away, also in New Mexico.