Gainesville:
Several hundred protesters marched at the University of Florida on Thursday to denounce a speech by a white nationalist, saying his white supremacy message had no place on the campus that was filled with police and barricades to guard against unrest.
Richard Spencer's event at the university in Gainesville, which prompted the governor to declare a state of emergency to prepare for possible violence, comes about two months after rallies by neo-Nazis and white supremacists in Charlottesville, Virginia, led to a deadly clash with counter-protesters.
The violence on Aug. 12 sparked a national debate on race, and Republican President Donald Trump came under fire for blaming both sides for the melee.
Spencer, who heads the National Policy Institute, a nationalist think tank, is scheduled to speak at 2:30 p.m. EDT (1830 GMT) at a campus performing arts centre. The university said it did not invite him to speak, but was obligated by law to allow the event.
The school said it will spend more than $500,000 on security, and the National Policy Institute is paying more than $10,000 to rent the facility and for security within the venue.
"This is going to be an important dialogue for the entire community," Spencer said on Twitter.
Amid a heavy police presence, demonstrators taking part in a protest rally called "No Nazis at UF" chanted "stand up, fight back" and "go home, Spencer." A plane flew overhead with a sign that read "Love conquers hate! Love will prevail!"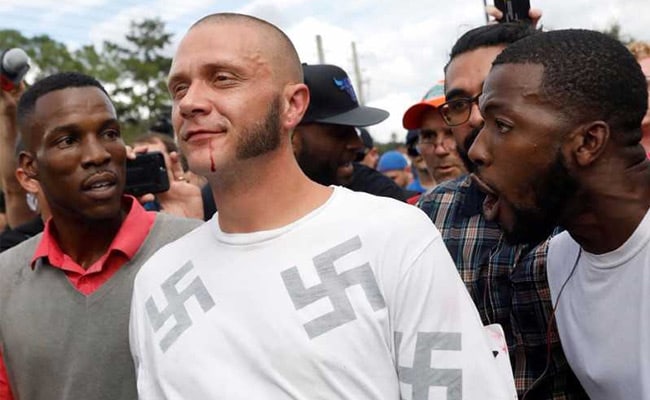 A White Nationalist, with his lip bleeding, is surrounded by protestors (Reuters)
A man hired as security for media was arrested for illegally carrying a firearm on campus, the Alachua County Sheriff's Office said.
Classes at the university were held except for those in close proximity to the speech venue, but many students were staying away from campus, said Wes Li, a 20-year-old philosophy major.
"It's very tense and upsetting," Li said.
The Southern Poverty Law Center, which monitors U.S. hate groups, said Spencer is "a radical white separatist whose goal is the establishment of a white ethno-state in North America."
An outspoken supporter of Trump during the 2016 campaign, Spencer rose from relative obscurity after widely circulated videos showed some Trump supporters giving Nazi-style salutes to Spencer during a gathering in Washington to celebrate the Republican candidate's win. Trump condemned the meeting.
The Orlando Sentinel newspaper quoted Spencer as saying the emergency declaration issued this week was "flattering" but "most likely overkill."
University President Kent Fuchs urged students not to attend the event and denounced Spencer's white nationalism.
"I stand with those who reject and condemn Spencer's vile and despicable message," Fuchs said on Twitter on Thursday.
The death in Charlottesville, home to the flagship campus of the University of Virginia, occurred as counter-protesters were dispersing. A 20-year-old man who is said by law enforcement to have harboured Nazi sympathies smashed his car into the crowd, killing a 32-year-old woman.
(Reporting by Zachary Fagenson; Writing by Jon Herskovitz and Colleen Jenkins; Editing by Jeffrey Benkoe and Lisa Shumaker)
© Thomson Reuters 2017