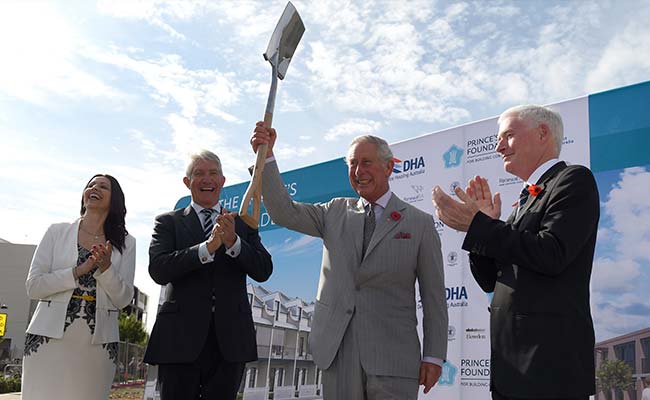 Adelaide, Australia:
Prince Charles touched town in Adelaide today, the first British royal to visit Australia since staunch republican Malcolm Turnbull became prime minister, amid a revived debate over whether Canberra is ready to ditch its monarchy ties.
Turnbull, who ousted royal supporter Tony Abbott in a party coup in September, is a former head of the Australian Republican Movement and campaigned passionately, but unsuccessfully, to ditch the monarchy in a 1999 referendum on the issue.
The six-day royal visit follows a move to remove knights and dames from Australia's national honours system, which the ardent republican leader said were "not appropriate" in the modern age.
Charles and Turnbull will meet Wednesday to mark Remembrance Day, which commemorates those who died or suffered in war.
Today opposition leader Bill Shorten repeated calls for Australia to become a republic and break away from the monarchy.
"It's long overdue and now we have a republican as prime minister, a republican as leader of the opposition, I'm certainly keen and look forward with Malcolm Turnbull, to working with him to provide much needed momentum," said Shorten.
Despite renewed debate, Prince Charles and his wife Camilla received a warm welcome from large crowds in Adelaide.
The Prince of Wales and The Duchess of Cornwall visited South Australia state's world-renowned Barossa Valley vineyards before heading to Canberra Wednesday to mark the centenary year of the Gallipoli campaign of the First World War on Wednesday.
Former maid at Buckingham Palace maid Clare Morrow carried a black and white sign with the words "Charles! Thanks for the dance! Ghillies Ball Balmoral '93".
"He said 'that was such a long time ago', I thought he was really sweet," she told The Australian newspaper of their dance together at Balmoral Castle in 1993.
"The last time they were here I didn't get to see them. No one at work knows I was coming. I guess they do now.
"I was just hoping that he didn't think I was a crazy stalker."
Charles will travel to the National Anzac Centre in Albany in Western Australia later in the week, before celebrating his 67th birthday on Saturday with a barbecue at a Perth beach.
He arrived in Australia from New Zealand, whose premier John Key is pushing to drop the Union Jack from the flag, arguing it is a symbol of the country's colonial past.
The British crown's power in Australia and New Zealand is seen as largely symbolic, but while Queen Elizabeth II is hugely popular in both countries the monarchy is still viewed by some as a colonial relic.