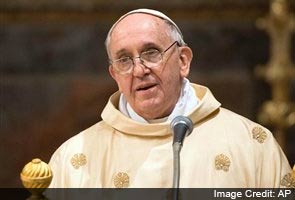 Vatican City:
He stopped to pay his hotel bill a day after becoming pope. He wore simple black shoes and an ordinary wristwatch with a thick black band to his first Mass as pontiff. He rode in a minivan to dinner with the cardinals who elected him, affectionately telling them, "May God forgive you for what you've done."
In an ancient institution where style often translates into substance,
Francis
, in his first 24 hours as pope, has dramatically shifted the tone of the papacy. Whereas Benedict XVI, the pope emeritus, was a theologian who favoured red loafers, ermine-lined cloaks and erudite homilies, reviving papal fashions from centuries past, Francis, the former Cardinal Jorge Mario Bergoglio of Buenos Aires, Argentina, appeared Thursday to be sending a message of radical humility.
"This choice indicates above all a style for the church: simplicity, poverty, rigor," said the Rev. Antonio Spadaro, the editor of La Civilta Cattolica, a Jesuit journal close to the Vatican Secretariat of State.
Francis, who chose the name of a medieval patron saint of Italy who came from a wealthy family and took a vow of poverty, is the first pope to come from the Jesuit order, whose members take a vow of poverty and have traditionally shunned careerism, instead focusing on service, education and engaging with the world.
On his first morning as pope, Francis slipped out of the Vatican to pray privately in a shrine to the Virgin Mary in Santa Maria Maggiore, a Roman basilica. He also prayed in a side chapel where St. Ignatius Loyola, who founded the Jesuits, celebrated his first Christmas Mass.
On Thursday, Cardinal Jean-Pierre Ricard, the archbishop of Bordeaux, France, recalled how, soon after Francis greeted the faithful from the loggia at St. Peter's Basilica for the first time as pope, he left with the cardinals to return to their residence during the conclave.
"When he left to go back with us to Santa Marta, the staff moved us aside, because usually the pope descends alone in the elevator," Ricard said. ''And he said, 'No no, no, no, we can all get in.' And so we all got into the elevator, with the pope.
"And when we got to the bottom, he said, 'No, I am coming with you,' and he got in the bus with us, and the papal car left empty," he added. "I think this is the style of our new pope."
In a homily delivered in a Mass in the Sistine Chapel with the cardinals who elected him, Francis spoke of the need to build faith the way the apostle Peter built the church on the foundations of the Gospels. "When we don't walk, we stop," he said, as rows of cardinals in pale yellow vestments scrutinized him closely.
"When you don't build on stone, what happens becomes like what happens to children on the beach when they build sand castles. Everything falls down," he added.
Francis' more conversational tone, albeit dense in biblical allusions, came in contrast to the style of Benedict, whose speeches often expounded on the interplay between faith and reason.
On his way back to the Vatican from the shrine to the Virgin Mary, Francis stopped at the clerical residence in Rome where he had stayed before the conclave to collect his luggage and to pay his bill. "He wanted to send a message" to the clergy, the Vatican spokesman, the Rev. Federico Lombardi, said Thursday.
For an audience that he will hold with cardinals on Friday, the pope instructed them to wear plain black cassocks, and not red with white lace surplices.
Francis comes from Argentina, which was hit by a crippling sovereign debt crisis in 2001 from which it has not fully recovered.
Cardinal Philippe Barbarin of Lyon, France, recalled that he had asked Bergoglio why he was not going to Rome last December when Benedict was naming more cardinals.
"He told me that right now the situation in Argentina was too terrible; he couldn't leave Argentina," Barbarin said. "For me, that was significant. In a moment where the country is going badly, he said, 'I have to be here.' He could have happily come to a party in Rome, but he didn't."
The Rev. Enzo Fortunato, the director of the press office at the Basilica of St. Francis in Assisi, Italy, where the new pope has an open invitation to visit, was thrilled at the name he chose. "I think this choice indicates the vitality of the church," he said. "St. Francis was a man of the church," and "simplicity and humility give breadth to the church," he added.
For Italians, the pope, who was born in Argentina to parents from the northern Italian region of Piedmont, may quickly become the most beloved Argentine since Diego Maradona, who played for the Napoli soccer club in the 1980s.
Already, they are praising his warmth and common touch. "He almost brought me to tears when he asked to be blessed by us, before blessing us," said Fabrizio Venanzoni, 21, an engineering student, as he stood in St. Peter's Square on Wednesday evening, holding a sign that read, "We'll follow you, (AT)pontifex," referring to the papal Twitter handle.
"Then he opened his speech with two simple words, 'Buona sera,"' or 'Good evening,''' Venanzoni added. "It made me feel like he is one of us, he is close to simple people. It made me hope that St. Peter's will no longer be a building, but a home for all those who have felt neglected by theologians and scholars."

(Elisabetta Povoledo and Gaia Pianigiani contributed reporting.)
© 2013, The New York Times News Service