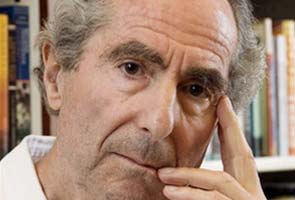 Melbourne:
Calling him the "most decorated living American writer," a panel named Philip Roth the winner of the Man Booker International Prize on Wednesday, an honor awarded every two years to an author for extraordinary work in fiction. The decision prompted one of the judges to withdraw from the panel.
Mr. Roth, who has written dozens of novels including "Goodbye, Columbus," "Portnoy's Complaint" and "The Human Stain," called the award a "great honor" and said in a statement that he hoped it would introduce his work to readers around the world who were unfamiliar with it.
The winner receives £60,000, or about $97,000. The previous winners are Ismail Kadaré, Chinua Achebe and Alice Munro. "He's a novelist through and through," Rick Gekoski, chairman of the judging panel, said in an interview from Sydney, Australia, where the decision was announced at the Sydney Writers' Festival. "The range and depth of his work strikes me as utterly remarkable."
Not all of the judges agreed. One, Carmen Callil, the founder of the feminist publishing house Virago, stormily withdrew from the panel over the decision to honor Mr. Roth, telling The Guardian newspaper that he "goes on and on and on about the same subject in almost every book," adding, "It's as though he's sitting on your face and you can't breathe."
"I don't rate him as a writer at all," she said. "I made it clear that I wouldn't have put him on the long list, so I was amazed when he stayed there. He was the only one I didn't admire - all the others were fine." Ms. Callil said she would explain her position more fully in an essay in The Guardian on Saturday.
Mr. Gekoski acknowledged that the discussion among the judges had been "contentious" and had come down to a 2-to-1 vote. He said that he and the other judge, the novelist Justin Cartwright, felt strongly that Mr. Roth should win, and he criticized Ms. Callil.
"I am very regretful that she would go public in this way because I think it's disrespectful to the winner," he said. "In literary life we all have extraordinarily strong opinions. Frankly, this all sounds to me like the plot of a Philip Roth novel."
The prize this year has attracted an unusual amount of discord. John le Carré was chosen as one of the 13 finalists but in March asked that his name be withdrawn so that "less established" authors would have the opportunity to win. The finalists included the American writers Marilynne Robinson and Anne Tyler, Philip Pullman of Britain, Juan Goytisolo of Spain and two Chinese writers, Su Tong and Wang Anyi.
Mr. Roth will be formally awarded the prize at a dinner in London on June 28.