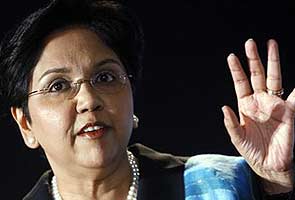 PepsiCo Inc Chief Executive Indra Nooyi had total compensation worth $17.1 million last year, up 6 per cent from 2010, even as the food and drink company failed to meet its key internal performance targets.
The increase is largely due to a 23 per cent jump in Nooyi's base salary - her first raise in five years as CEO - and a gain in the value of her retirement benefits.
Ms Nooyi, 56, has come under pressure from Wall Street for allowing PepsiCo's North American soft drink business to languish while she focused on healthier products.
Ms Nooyi got a base salary of $1.6 million in 2011, up from $1.3 million before. The new salary is more in line with that of her peer group, PepsiCo said in its annual proxy statement, filed on Friday.
The change in Ms Nooyi's pension value and deferred compensation was $3 million in 2011, up from $2.1 million in 2010, although her incentive compensation fell to $2.5 million from $3 million in 2010.
"Our net revenue, net income and earnings-per-share growth were slightly below the stretch targets established by the compensation committee under our incentive plans," said the maker of Pepsi-Cola, Tropicana juice and Doritos corn chips.
Excluding the impact of currency fluctuations, PepsiCo grew its revenue by 13 per cent, net income by 4 per cent and earnings per share by 5 per cent in 2011. Its targets called for gains of 14 per cent, 7 per cent and 7 to 9 per cent, respectively.
PepsiCo's shares rose 1.6 per cent in 2011, underperforming rival Coca-Cola Co, whose shares rose 6.4 per cent during the year. The overall stock market, as measured by the Standard & Poor's 500 index, was essentially flat.
Coca-Cola CEO Muhtar Kent also got his first raise in salary last year since becoming CEO in 2008. His base salary went from $1.2 million to $1.4 million. His salary will rise again, to $1.6 million, on April 1, the company said in its proxy, filed earlier this month.
Mr Kent's total compensation package was valued at $29.1 million in 2011, up 17 per cent from 2010.
Copyright Thomson Reuters