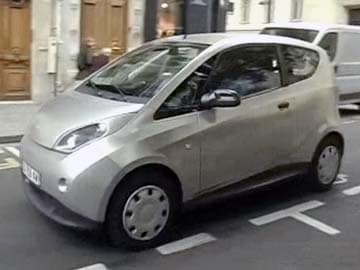 Paris:
We share taxis and autos in India. But in Paris, they are sharing cars. Not the old, fuel-guzzling cars, but the electric ones that don't pollute.
Called Autolib, the venture lets you go to one of its charging stations, hire the electric car, drive around and leave it at another charging station. It is cheap and you don't even have to worry about finding a parking space or paying for it. Autolib has its own parking spots across Paris.
The good news is there is a good chance that New Delhi is on Autolib's radar.
Paris resident Daniel Katz is a regular at Autolib. Whenever he needs a car, he hops across to one of its 750 charging stations, swipes his Autolib card and drives away.
"It is very environment friendly because it is electric. And it doesn't make any noise. You have a funny beeper because people don't hear you on the street. So you just do beep, beep! And it's a different noise. So it is very good for the global environment," says Daniel.
Catherine is another regular. "You save money both ways. You don't need to take a taxi and you don't need to pay to park," she says. "And the fare is not expensive either."
And usage cost? Nine euros for 30 minutes, if you are not a member. Six-and-a-half if you are one. Worried about a breakdown somewhere? Help is just a phone call away.
"There are Autolib ambassadors on scooters all across Paris," says Jimmy, an Autolib executive, "and they rush to the trouble spots and help the driver."
Autolib has been around in Paris for almost two years now and men, women and students are swearing by it.
After Paris, Autolib has opened shops in Lyon and Bordeaux in France and has even travelled across the Atlantic to Indianapolis in the United States.
Its next stop is supposed to be an Asian capital. New Delhi? Now that's a secret Autolib is not revealing just yet. Until then, India's capital will have to hold its breath.