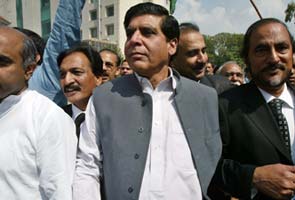 Islamabad:
A Pakistani election tribunal on Monday disqualified former prime minister Raja Pervez Ashraf from contesting next month's general elections over graft allegations, an official said.
Ashraf, a candidate for the outgoing governing Pakistan People's Party, was last week prevented by an election official from standing in his native Gojar Khan district in central Punjab province after his opponent accused him of corruption.
Ashraf filed an appeal but both high court judges on the election tribunal on Monday rejected his appeal and disqualified him from standing.
"The election tribunal has rejected his appeal which means he cannot contest elections," election official Zahur Ahmed Pasha told AFP.
Sardar Latif Khosa, a party leader from Punjab, said Ashraf would file an appeal in a higher court.
Ashraf was sworn in as prime minister last June after Pakistan's top court sacked his predecessor for contempt over his refusal to ask Switzerland to reopen corruption cases against President Asif Ali Zardari on the grounds that he has immunity as head of state.
Pakistanis go to the polls on May 11 in a general election that should see power pass from a civilian government that has served a full term to another through the ballot box for the first time in the nuclear-armed country's turbulent history.