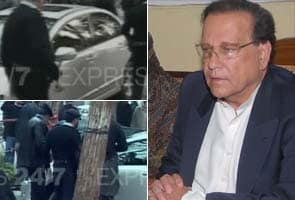 Islamabad:
The governor of Pakistan's wealthiest and most populous province was shot dead in the capital on Tuesday by one of his own guards, who later told interrogators that he was angry about the politician's stance against the country's blasphemy law, officials said. (
Read and watch: Pak Punjab Governor assassinated by guard
)
Bullet casings and blood covered much of the scene at the market, and police quickly cordoned off the area.
The killing of Punjab province Governor Salman Taseer was the most high-profile assassination of a political figure in Pakistan since former Prime Minister Benazir Bhutto was assassinated in December 2007, and it rattled a country already dealing with crises ranging from a potential collapse of the government to a virulent Islamist insurgency.
The killing could also add to concerns about inroads by Islamist extremists and fundamentalists into Pakistan's security establishment and represented another blow to the country's Pakistan's embattled secular movement.
Taseer was a member of Bhutto's Pakistan People's Party and a close associate of the president.
The governor was vocal on a range of subjects, even using Twitter to get across his views.
Punjab is a major base and recruiting ground for Pakistan's powerful military and security establishment, which many fear is coming under the increasing influence of religious fundamentalists as Islamist movements have spread in Pakistan.
Some analysts have suggested that fundamentalist members of the security establishment pose a greater threat of Pakistan nuclear proliferation than militant groups such as the Taliban.
In recent days, as the People's Party has faced the loss of its coalition partners, the 56-year-old Taseer had insisted that the government will survive.
But it was his very public stance against the blasphemy law that apparently led to his killing.
Pakistan's blasphemy law has come under greater scrutiny in recent weeks after a Christian woman, Asia Bibi, was sentenced to death for allegedly insulting Islam's Prophet Muhammad.
The law effectively orders death for anyone convicted of insulting Islam.
Taseer had said Bibi should be granted a pardon, a stance that earned him opprobrium from Islamist groups across the country as well as threats, according to Shahbaz Bhatti, the minister for minorities.
"I was under huge pressure sure 2 cow down b4 rightest pressure on blasphemy. Refused. Even if I'm the last man standing," Taseer wrote on Twitter on December 31.
"He was the most courageous voice after Benazir Bhutto on the rights of women and religious minorities," said a crying Farahnaz Ispahani, an aide to Zardari and friend of Taseer.
An intelligence official interrogating the suspect, identified as Mumtaz Qadri, told The Associated Press that the bearded elite force police commando was boasting about the assassination, saying he was proud to have killed a blasphemer.
The official spoke on condition of anonymity because he was not authorised to speak to media on the record.
Qadri is 26 and from Barakhao, a neighbourhood on the outskirts of Islamabad, said Interior Minister Rehman Malik.
Dozens of Pakistanis are sentenced to death each year under the blasphemy law, which dates back to the 1980s military rule of General Mohammad Zia ul-Haq.
Most cases are thrown out by higher courts and no executions have been carried out, but human rights activists have long complained that the law is used to settle rivalries and persecute religious minorities.
Under pressure from Islamist parties, the People's Party said recently it would not pursue changes to the law.
Bhatti, the minorities minister, said Pakistan's religious minorities would join the People's Party in its plans to have a two-week mourning period for Taseer.
Prime Minister Yousuf Raza Gilani also announced a three-day period of national mourning and ordered flags lowered to half-mast.
Police official Mohammad Iftikhar said Taseer was gunned down after he reached Kohsar Market, a shopping centre in Islamabad popular with Westerners and wealthy Pakistanis.
Five other people were wounded as other security personnel responded to the attack.
"First I heard a gunshot and later Kalashnikov shots. I came out and saw guards were moving the governor to a vehicle," said witness Mazhar Iqbal.
Taseer was believed to be on his way to see someone for a meal, Interior Minister Malik said.
Other members of his security detail were being questioned, Malik said, who added that the security for Taseer was provided by the Punjab government.
"We will see whether it was an individual act or someone had asked him to do it," Malik said of the attacker. (
Read:Probe ordered into Taseer's assassination,says Rehman Malik
)
At the hospital, People's Party supporters wept and beat their heads after the news.
Outside his residence in the eastern city of Lahore, hundreds of supporters chanted slogans on his behalf, while in the central city of Multan dozens of People's Party supporters burned tires and demanded the attackers be punished.
Human rights activists were dismayed at Taseer's death, especially considering the difficulties the People's Party has had in advancing any legislation on human rights because of its alliances with Islamist parties.