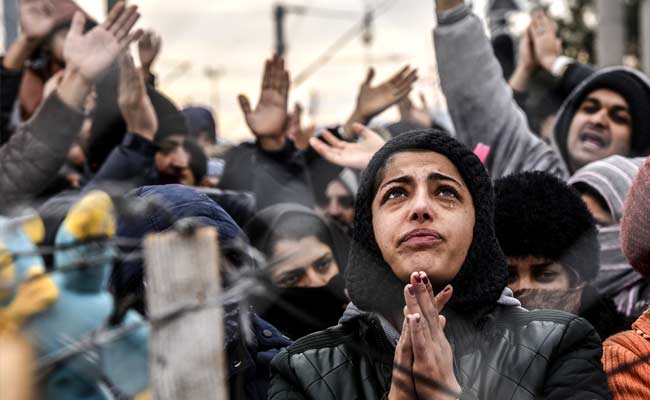 Islamabad:
Pakistan refused to allow 30 migrants deported from Greece to leave a plane at Islamabad today, a week after talks with the European Union to settle a dispute over forced repatriations.
The charter plane later took off with the 30 still aboard, though others that Pakistan deemed legitimate deportees were allowed to disembark.
A top EU official said last week Pakistan would stick to an agreement to take back citizens deported from mainland Europe, days after Pakistani Interior Minister Nisar Ali Khan said Islamabad was suspending a deal under which thousands per year are repatriated.
An estimated 50,000 Pakistanis travel legally to Europe for work each year. Last year, about 21,000 living there without permission were ordered to return to Pakistan, according to EU statistics.
But the Interior Ministry said the 30 arriving today were "unverified deportees".
"On the interior minister's orders, the FIA has not allowed these illegally deported people and the aircraft crew to leave the plane," the ministry said in a statement, referring to the Federal Investigation Agency.
"Despite having settled all issues with the European Commissioner, Pakistani laws have been violated, which absolutely cannot be allowed," Khan said.
He did not specify the reasons for not accepting the 30. Nineteen "verified" deportees were allowed to disembark, a ministry spokesman said.
The EU mission in Pakistan had no immediate comment today.
Clashes erupted on the Greek-Macedonian border on Tuesday when Macedonian riot police fired tear gas to repel up to 1,000 mostly Pakistani migrants trying to force their way across a newly erected border fence, a Reuters witness said.
Migrants later blocked the crossing for Syrians and others who would be let in as refugees. "If we don't cross, no one does!" they chanted. Police stood guard. Buses full of people who have landed elsewhere in Greece kept arriving.
So far, 886,662 people seeking safety have reached European shores this year, about four times the total in 2014, William Spindler, of the UN High Commissioner for Refugees, said in Geneva this week.
Half of those arriving are Syrians fleeing war. The vast majority reaching Europe arrive by sea.
© Thomson Reuters 2015