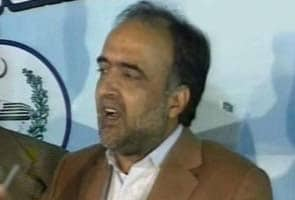 Islamabad:
Amidst protests by cleric Tahir-ul-Qadri for the dissolution of Parliament, the Pakistan government today said it is determined to complete its five-year term and to hold the polls by May 15.
"There are few days left for the completion of the term (of the government). All the parties and real stakeholders have agreed that (the national and provincial) assemblies will complete their term on March 16," Information Minister Qamar Zaman Kaira said.
"On that day, the assemblies will be dissolved automatically. We have given in writing in the Supreme Court yesterday that, according to the Constitution, the election will be held in time (within two months)," he told a news conference outside the Parliament.
Mr Kaira, who was flanked by National Assembly Deputy Speaker Faisal Kundi and Senate Chairman Nayyar Bukhari, said the next general election is expected to be held between May 5 and 15.
The Information Minister dismissed Tahir-ul-Qadri's call for the government to quit and to dissolve the national and provincial assemblies, saying the cleric was not in a position to make such demands as he could not even contest polls himself due to his Canadian citizenship.
"He (Mr Qadri) is exposing himself when he speaks. The people should expose him. The people will not stand by him. These few people who are there, they will go back," Mr Kaira said.
He said the government would act according to the law and Constitution in dealing with Mr Qadri's protest near parliament.
"It is the right of anyone to protest but he cannot disrupt the life of the people of Pakistan," he said.
Referring to Mr Qadri's call for a greater role for the army and judiciary, Mr Kaira said: "What does he want to do with the institutions he keeps referring to? Every step that weakens democracy and goes against the Constitution will be resisted by political parties and civil society".
Mr Kaira made several digs at Mr Qadri's claims and demands. "You want to dissolve the government, Parliament and Election Commission, but you refuse to tell us how. The man making these demands cannot himself contest polls under the Constitution," Mr Kaira said.
Get Breaking news, live coverage, and Latest News from India and around the world on NDTV.com. Catch all the Live TV action on NDTV 24x7 and NDTV India. Like us on Facebook or follow us on Twitter and Instagram for latest news and live news updates.