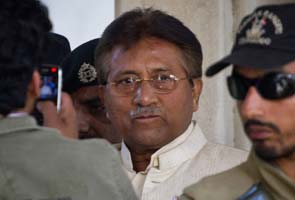 Rawalpindi:
Pakistan's former military ruler General Pervez Musharraf was back in court Wednesday to have his bail extended over allegations that he conspired to murder opposition leader Benazir Bhutto in 2007.
General Musharraf, who returned home from four years of self-imposed exile last month, arrived at the court in Rawalpindi under tight security as his supporters scuffled with lawyers opposed to the retired general.
General Musharraf and his lawyers have been in and out of court numerous times to get his bail extended over the 2007 killing of former PM, the death of a rebel leader from Baluchistan in 2006 and for arresting judges in 2007.
"The court has extended General Musharraf's bail until April 24," one of his lawyers, Afshan Adil, told AFP. Bail had been posted at 10,000 dollars, she added.
General Musharraf's return to Pakistan has been overshadowed by Taliban death threats, the slew of legal cases and a miserable show of support.
On Tuesday, he was disqualified from contesting next month's elections over the host of cases dating back to his 1999-2008 rule, effectively ending his ambitions for a comeback at the ballot box on May 11.
His team has vowed to appeal against the decision in the Supreme Court, which is considered unlikely to reinstate his nomination.
The court is already hearing a separate petition from lawyers demanding that General Musharraf face trial for treason for imposing emergency rule and sacking judges in November 2007, a move that paved the way for his downfall.
In 2010 a UN report said Mrs Bhutto's death could have been prevented and accused General Musharraf's government of failing to give her adequate protection.
Mrs Bhutto's son, Bilawal Bhutto Zardari, who is chairman of the outgoing Pakistan People's Party, has accused General Musharraf of her murder.