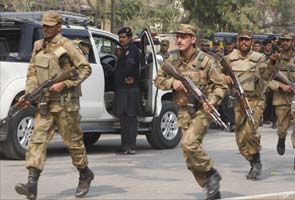 Peshawar:
A suicide bombing at a funeral in Pakistan on Tuesday killed at least 27 people including a provincial lawmaker, police said, the deadliest attack to hit the country in more than three months.
The attack in Shergarh town in Mardan district, 145 kilometres (90 miles) northwest of Islamabad, came during prayers for the owner of a local fuel station.
Police said the politician appeared to be the target of the blast, which highlights the security challenges facing the new government of Prime Minister Nawaz Sharif, sworn in earlier this month after winning the May 11 general election.
Local police chief Tahir Ayub told AFP "at least 27 people were killed and 55 others wounded in the blast" and that it was a suicide attack.
Another local police official, Jaffer Khan, confirmed the toll.
"The bomber came on foot and blew himself up near Imran Khan Mohmand, who seems to have been the target," Khan told AFP.
Mohmand was elected last month to the provincial assembly in northwestern Khyber Pakhtunkhwa province, where former cricketer Imran Khan's Pakistan Tehreek-e-Insaaf party heads the new coalition government.
Khyber Pakhtunkhwa is on the frontline of a seven-year Taliban insurgency and borders the semi-autonomous tribal belt, where US drone strikes target Taliban and Al-Qaeda operatives.
Washington considers the tribal areas a major hub of Taliban and Al-Qaeda militants plotting attacks on the West and in Afghanistan.
Tackling homegrown Islamist militancy is one of the major tasks for Sharif's new national government -- more than 6,000 people have died in attacks in Pakistan in the past six years according to an AFP tally.
More than 150 people died in militant attacks during the election campaign but Tuesday's bombing is the deadliest since a blast in a Shiite Muslim area of Karachi on March 3 killed 50 people.
The attack comes three days after 25 people died when militants blew up a bus carrying female students in the southwestern city of Quetta and stormed a hospital where survivors were taken for treatment.
Malala Yousafzai, the Pakistani schoolgirl shot by the Taliban for promoting girls' education, denounced the attack on the Quetta bus as "cowardly".
Former British prime minister Gordon Brown, the UN special envoy for global education, said it was the "bloodiest atrocity yet in escalating violence against female students".
Malala was shot at point-blank range by a Taliban gunman as her school bus travelled through northwest Pakistan's Swat Valley on October 9 last year, in an attack that drew worldwide condemnation.
She was flown to Britain for surgery on her head injuries and returned to school in Birmingham, central England, in March.