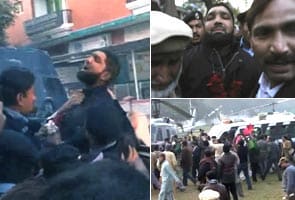 Islamabad:
Lawyers showered the suspected killer of a prominent Pakistani governor with rose petals when he arrived at court on Wednesday and an influential Muslim scholars' group praised the assassination of the outspoken opponent of laws that order death for those who insult Islam.
Mumtaz Qadri, 26, made his first appearance in an Islamabad court, where a judge remanded him in custody a day after he allegedly sprayed automatic gunfire at the back of Punjab province Governor Salman Taseer while he was supposed to be protecting him as a bodyguard.
A rowdy crowd slapped him on the back and kissed his cheek as he was escorted inside.
The lawyers who tossed handfuls of rose petals over him were not involved in the case.
The suspect stood at the back door of an armoured police van with a flower necklace given to him by an admirer and repeatedly yelled "God is great."
More than 500 clerics and scholars from the group Jamat Ahle Sunnat said no one should pray or express regret for the killing of Taseer.
The group representing Pakistan's majority Barelvi sect, which follows a brand of Islam considered moderate, also issued a veiled threat to other opponents of the blasphemy laws.
"The supporter is as equally guilty as one who committed blasphemy," the group warned in a statement, adding politicians, the media and others should learn "a lesson from the exemplary death."
Meanwhile, a large group of mourners gathered in Lahore on Wednesday to attend Taseer's funeral prayers.
Taseer's casket was brought to the funeral procession venue in Lahore in an ambulance and immediately surrounded by mourners.
Prime Minister Yousuf Raza Gilani and Foreign Minister Shah Mahmood Qureshi were amongst a large number of the grieving supporters who arrived to pay their respects to the slain politician.
Interior Minister Tasneem Ahmed Qureshi called it "an alarming situation for the future of the country".
"I think the nation will have to make a conscious decision to oppose those elements who have narrow vision and kill for petty reasons and stop freedom of expression," he said.
Jamat leader Maulana Shah Turabul Haq Qadri defended Qadri's actions as being dictated by "overwhelmed sentiments", and criticised those who attended Taseer's funeral.
"Whoever commits blasphemy against the personality of our prophet, may peace be upon him, then his funeral prayers are not attended by Muslims," he said.
Taseer's casket was airlifted by helicopter and transported to the burial site, where mourners gathered to watch the coffin being lowered in to the grave.
A senior police official who interrogated suspect Mumtaz Qadri said he was determined to stand by his confession that he was proud to kill a blasphemer.
The official said Qadri had looked for a chance to kill the governor since he joined his security squad on Tuesday morning, and took his chance when the squad was called to escort Taseer from a restaurant in the afternoon.
A group of students gathered in Peshawar on Wednesday in support of Qadri.
"He did a tremendous job," said one student.
"All the students are proud of him," said another. "We are all with him."
The assassination added to the turmoil in nuclear-armed Pakistan, where the government is on the verge of collapse and Islamic militancy is on the rise.
Political allies questioned why Taseer hadn't been better protected, given the weeks of angry protests outside the governor's mansion over his opposition to the blasphemy laws.
His death also came as a blow to the ruling party, which is struggling to retain power after the defection of a key ally from its governing coalition that left it without a majority in parliament.