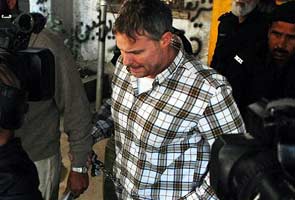 Lahore:
A criminal court agreed on Thursday to delay pressing murder charges against the CIA operative, Raymond L Davis, ruling that that lawyers for Mr Davis should have more time to prepare for the case.
A Pakistani lawyer appeared on behalf of Mr Davis for the first time in pretrial proceedings held in the Lahore Central jail where he has been held since killing two Pakistani motorcyclists in late January. The lawyer, Zahid Bokhari, said after the hearing before Judge Yousaf Ojla that he had asked for more time to present arguments on whether Mr Davis enjoys diplomatic immunity. Judge Ojla agreed to postpone the hearing until March 8.
In a separate proceeding, the Lahore High Court is scheduled to hear a decision by the Pakistani Foreign Ministry on March 14 on the question of diplomatic immunity. The Obama administration has insisted that Mr Davis, a former Special Forces soldier who worked as a contractor for the Central Intelligence Agency in Pakistan is a diplomat, and as such is protected by the Vienna Convention on Diplomatic Relations of 1961 that grants blanket immunity from prosecution to diplomats.
The United States has filed a four-page diplomatic memo with the Foreign Ministry laying out the legal case for diplomatic immunity, Mr Bokhari said. After Mr. Davis was arrested in Lahore, Foreign Ministry officials said that he was not a diplomat, and was not protected by the conventions.
Mr Davis, 36, shot and killed two motorcyclists with a Glock pistol at a busy intersection in Lahore during what the United States describes as an attempted robbery while his car was stopped at the intersection. A third Pakistani was killed when a vehicle of the American Consulate in Lahore drove the wrong way down a one-way street in an attempt to rescue Mr. Davis from the Lahore police.
Lahore police officers confiscated equipment commonly used in espionage from Mr Davis's car, including a pocket telescope and ammunition. After hitting a motorcyclist, the rescue vehicle, carrying two Americans, sped back to the consulate but left a trail of equipment, including a black cloth mask and gloves, a small American flag, and weapons, police officials said.
Get Breaking news, live coverage, and Latest News from India and around the world on NDTV.com. Catch all the Live TV action on NDTV 24x7 and NDTV India. Like us on Facebook or follow us on Twitter and Instagram for latest news and live news updates.