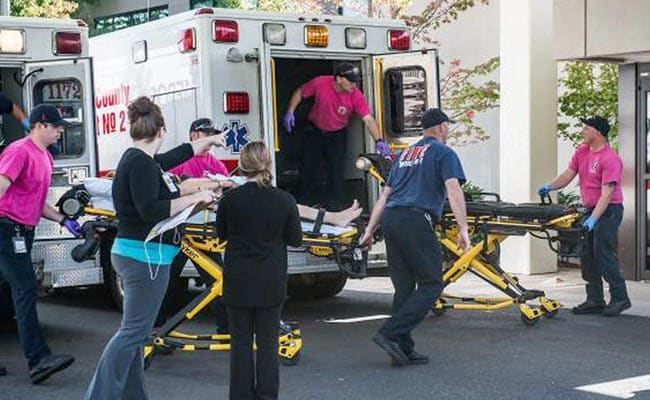 Washington:
Oregon, the location Thursday of the latest deadly US mass shooting, had recently strengthened its gun sale laws, like many Democrat-leaning states frustrated over political inaction at the federal level.
The US state is above average in terms of gun regulation, according to Laura Cutilletta, a senior attorney at the Law Center to Prevent Gun Violence, a leading advocacy group in California.
Local elected officials this year made universal background checks mandatory before the sale of any firearm in Oregon, one of 18 out of 50 states to do so. Elsewhere in the United States, sales at gun shows or on the Internet are not subject to such controls, a known loophole.
Still, Oregon does not prohibit the transfer or possession of assault weapons, nor does it have a gun-purchase waiting period.
More than ever, the United States is a patchwork of laws, with the ghastly murder rampage at Sandy Hook Elementary School in 2012 failing to produce the national reform that gun control activists had hoped from a divided Congress.
On December 14 of that year, an apparently disturbed 20-year-old man killed 20 children in their Newtown school, along with six adults, sparking a wave of grief and soul-searching.
Since 2013, amid Washington's inaction, several states led by Democrats strengthened their gun control laws.
"We have not had high hopes on Congress for a very long time," Cutilletta told AFP. "That's why we focus on the states."
All US states have concealed carry laws which allow permit-holders to carry guns out of view.
Some are very restrictive on gun sales, including the number of weapons a person can buy, who can obtain a license, and how.
California for example bans the sale of most assault weapons and high-capacity magazines, as do Connecticut, New York and the District of Columbia, among others.
Others, like Georgia and South Carolina, have taken a more permissive route, expanding the locations for permit-holders to carry weapons to include bars, churches and airports.
Texas recently legalized carrying guns on college campuses.
Shameful
After Sandy Hook, reformers' ambitions for Congress were modest: they had little hope of curtailing sales of the most dangerous weapons, including semi-automatic rifles.
Their goal instead was to institute a nationwide system of background checks to be required before any firearm sale.
But on April 17, 2013, a day President Barack Obama described as "shameful," the Senate blocked the background check reforms thanks to a coalition of Republicans and some Democrats, and fuelled by the gun lobby and its chief proponent, the National Rifle Association.
Thursday's shooting in Oregon, which left 10 dead, prompted another impassioned plea for gun control legislation from President Barack Obama.
The reform movement has tried to counter the extraordinary influence of the NRA through extensive awareness campaigns.
The billionaire ex-mayor of New York, Michael Bloomberg, and his organization Everytown for Gun Safety poured millions of dollars into the 2014 congressional races in an effort to beat the NRA's favored candidates.
Coincidentally on Thursday, 147 lawmakers wrote House Speaker John Boehner calling for Congress to address the "national epidemic" of gun violence.
According to the Brady Campaign to Prevent Gun Violence, an average of 32,000 people died annually from firearms from 2009 to 2013, including about 20,000 suicides per year.