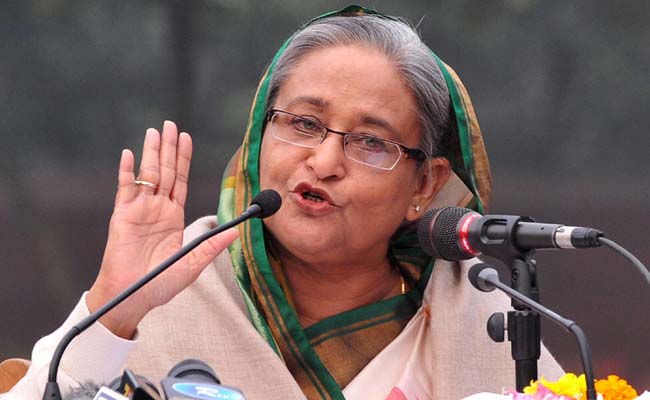 Dhaka:
There is no place for militancy and terrorism in Islam, Bangladesh Prime Minister Sheikh Hasina asserted today as she sought cooperation from Muslim scholars to clamp down on those engaged in terror acts in the name of Islam.
"I seek your cooperation in establishing the belief among people that there's no place of militancy and terrorism in Islam...This is a religion of peace. Please, publicise it, she said while addressing the National Khatib Conference at Bangabandhu International Conference Centre in Dhaka.
Ms Hasina urged the Islamic scholars and the people of the country to take steps against those engaged in subversive and terrorist acts in the name of Islam.
"Please stay alert and keep them away from such activities," she said in the backdrop of a slew of attacks by Islamists, including against minorities in the Muslim majority country.
Her comments came hours after a 68-year-old Christian convert was hacked to death in by three motorbike-borne unidentified assailants in the northern Bangladeshi town of Kurigram.
Ms Hasina also lamented that some countries often mix militancy with Islam.
"For a handful of people, we've to endure this immense pain...this is really very painful for us," she said. She also mentioned that often people with vested interests wanted to create instability in the country.
"But it is the duty of the government to provide safety and peace to the people of the country along with ensuring food, shelter, medicare facilities and education so that their lifestyle can be improved. We're working towards that direction," the prime minister said.
There have been systematic assaults in Bangladesh over the past six months specially targeting minorities, secular bloggers and foreigners. These incidents have killed at least nine persons including two foreigners and wounded more than 100.
Last week a top Shia preacher and homoeopathic doctor was stabbed to death in southwestern Bangladesh in an attack claimed by the ISIS group.
A Hindu head priest was hacked to death last month by Islamists at a temple in northern Panchagarh district.