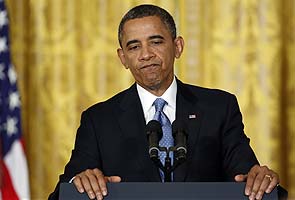 Washington:
In the rarest of the rare move, US President Barack Obama has asked the mother of a six-year-old killed in last December's Newtown massacre to stand in for him to address the nation this weekend.
Mr Obama's move comes as the White House continues its campaign to pressure Congress into passing stricter gun laws.
"The President has asked Francine Wheeler, who lost her six-year-old son Ben on that terrible day, to speak to the American people in this week's weekly address," White House Press Secretary Jay Carney told reporters.
Mr Obama typically delivers the address, focusing on a topic that's in the news or a policy the White House is pushing.
This week, Mr Obama has asked Francine Wheeler to deliver the address instead. Mrs Wheeler and her husband, David, lost their son, Ben, in the December schoolhouse shooting.
"As we continue to debate common-sense measures to reduce gun violence and save lives, one thing that has been very clear is that nobody has a more important or powerful perspective on the issue than the families who have lost loved ones because of the scourge of gun violence," he said.
"The President has been in regular contact this week with the families of victims of the 12/14 shootings, and he believes their voices and resolve have been critical to the continued progress we've seen in the Senate," Mr Carney said.
It is one of the rare occasions when someone other the US President would deliver the weekly radio address to the nation.
"I can't speak for previous administrations. It is the case that in this administration, the vice president delivered the weekly address when I was working for him, but I don't know about past administrations," Mr Carney said.