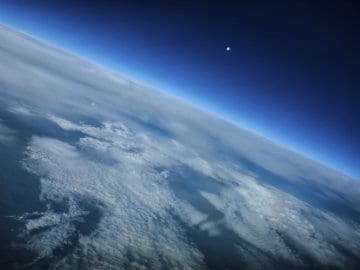 An unmanned Atlas 5 rocket blasted off from Vandenberg Air Force Base in California on Wednesday to put a sharp-eyed, Earth-watching satellite into orbit for DigitalGlobe.
The 188-foot (60-meter) tall booster, built and flown by United Launch Alliance, a partnership of Lockheed Martin Corp and Boeing Co, lifted off at 11:30 a.m. (1830 GMT) and headed south over the Pacific Ocean.
About 20 minutes later, the rocket's upper-stage deposited the 6,200-pound (2,800-kg) WorldView-3 satellite into a 380-mile (600-km) polar orbit. At that altitude, WorldView-3 is capable of seeing individual trees in a forest and identifying cars by their windshields.
"Imagine that you were in San Francisco. With the capabilities of this satellite we could see home plate in Dodger Stadium in Los Angeles. We can see the players in the field ... We could even count empty seats," DigitalGlobe Vice President Neil Anderson said in an interview during a live launch webcast.
Longmont, Colorado-based DigitalGlobe has been selling images of Earth and data to government agencies, commercial companies, agricultural groups and research organizations since 2000. WorldView-3 will become the sixth member of the company's orbital network.
In addition to being able to image objects as small as about 1 foot (30 cm) in diameter, the $500 million satellite, built by Ball Corp, has new sensors that can see through smoke and atmospheric haze.
"We can tell you what kind of trees are in the forest ... We can tell you what crops are growing, whether they are growing well, whether they're diseased, what the moisture content is in the soil. We can determine manmade objects. We can determine types of roads. We can actually see mineral content on the ground," Anderson said.
DigitalGlobe is not the only company in the remote sensing business. Google Inc in June announced it was buying Skybox Imaging of Mountain View, California, which plans to operate a fleet of 24 small satellites that capture high-resolution images and video.
Another Silicon Valley startup, privately owned Planet Labs, is launching shoebox-sized imaging satellites from aboard the International Space Station. The company plans to operate a constellation of 131 satellites by mid-2015. The U.S. government also has its Landsat program, which began in 1972.
© Thomson Reuters 2014