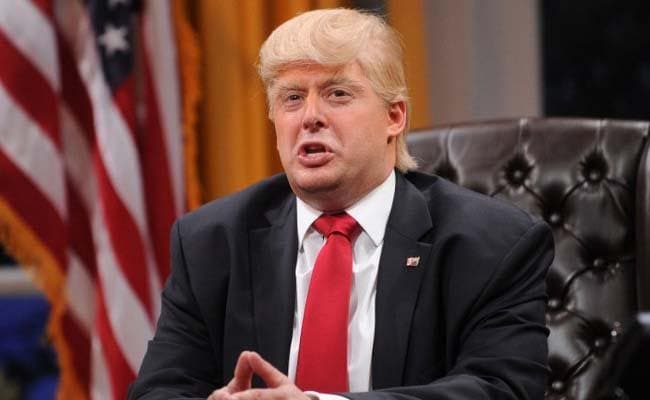 New York:
The explosive dawn of the Donald Trump presidency is energizing comedians and satirists as TV ratings boom, shows proliferate and top talents vie to portray the commander-in-chief as a buffoon.
Into the crowded market dives a new offering -- "The President Show," starring Trump impersonator Anthony Atamanuik as the Republican leader broadcasting his own reality show from the Oval Office.
The weekly program, which made its debut Thursday on Comedy Central, caricatures Trump as a child-like fool bent on bypassing the mainstream media, spliced with advice from a liberal pundit and a trip to New York where wife Melania has changed the locks.
"I have the power to destroy any country on earth, but I promise you it'll be America First," says Atamanuik in character, repeating Trump's campaign slogan and reinforcing the liberal stereotype of the president as an ignorant blowhard.
But to win the ratings war there's stiff competition.
In the weekly market there is "Full Frontal with Samantha Bee" on TBS, the first feminist political satire show on mainstream US television; "Last Week Tonight" with John Oliver on HBO; and the long-running and most-widely watched comedy show "Saturday Night Live" on NBC.
Weeknights there is "The Late Show with Stephen Colbert" on CBS, whose satirical tone has overtaken rival NBC entertainer Jimmy Fallon in the ratings; and "The Daily Show" with Trevor Noah on Comedy Central.
"Right now satire sees itself as more important than it has been in a very long time," says Dannagal Young, associate professor communication at the University of Delaware.
"In recent memory I don't think that we have seen a time that is as frightening, especially for the left, as this moment."
Way to cope
If ratings and advertising sales are up, so too are career fortunes.
Alec Baldwin has swapped headlines about tussling with paparazzi for rave reviews for his Trump impersonation on SNL that portrays the president as an idiot or a pawn.
Melissa McCarthy's impersonation of the White House spokesman, also on SNL, reportedly riled the president and has driven headlines.
Comedians say there are rich pickings in an administration has defied so many norms, from Trump refusing to fully divest from his businesses to concerns about nepotism and Russian meddling in the election.
That Trump is notoriously thin skinned makes him more fun to goad.
Satire "has the ability to help people cope," said Stephen Groening, assistant professor in the department of comparative literature, cinema and media at the University of Washington.
The ability to laugh, get perspective and enjoy the fact that other people find times "challenging and absurd, has value," he says.
Bee, Oliver and Noah take a more nuanced, issue-driven approach, woven with righteous anger and a call to arms that urges viewers to call their senator, protest or to donate to organizations.
"Stand-up comedians are increasingly taking a political activist, public intellectual role," says Maggie Hennefeld, who teaches cultural studies and comparative literature at the University of Minnesota.
- 'Couples' therapy' -
"American satire had the reputation for being less pointed, less dark, less confrontational," she said. "That's changing."
But if satire is predominantly left-leaning in a divided country where few Trump supporters tune in to watch Bee or Oliver, that is something Trump impersonator Atamanuik hopes to change.
His show "is not about catering to the right, but it is not about catering to the left either," he told reporters this week.
"This nation needs severe couples' therapy, let's just put it that way. And it doesn't happen by just fighting with each other."
Groening however doubts the "The President Show" will tackle what he called Trump's "overt appeals to sexism, misogyny, racism and homophobia."
He said too much US presidential satire was caricature rather than a look at policy or the state of the country in general.
Groening believes the booming market has more to do with the growth of channels and the digital era than Trump specifically.
"I'm not confident this is a seismic shift," he told AFP.
"You see in the ratings how wonderful Trump has been for TV," he said. "So I don't see them doing anything differently."
(Except for the headline, this story has not been edited by NDTV staff and is published from a syndicated feed.)