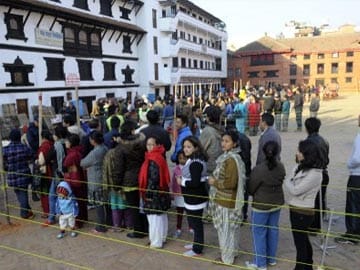 Kathmandu:
Nearly 70 per cent of Nepal's electorate voted today to choose an assembly that will draft a new constitution to end years of turmoil and political uncertainty though balloting was hit by sporadic violence, including vandalism and explosions that injured a dozen.
The turnout for the crucial Constituent Assembly polls was higher than that of the last polls in 2008 despite a boycott called by an alliance of fringe parties led by the CPN-Maoist.
"As per preliminary estimates, nearly 70 per cent of the total 12.147 million voters cast their votes," said Election Commissioner Awadhi Prasad Yadav.
This was more than the 61.7 per cent votes cast in the previous Constituent Assembly election five years ago. In the capital, the turnout was 75 per cent, officials said.
People voted amidst tight security, with 200,000 security personnel, including 60,000 soldiers, deployed across the country. The voting began at 7 am in almost all the 18,438 polling centres and concluded at 5 pm.
EC spokesman Bir Bahadur Rai said polls passed off peacefully in most areas barring a few incidents of vandalism, explosions, booth capturing and clashes.
About a dozen people were injured in these incidents, including three children wounded by a blast near a polling booth in Bhotebahal area of Kathmandu.
Unified CPN-Maoist cadres captured polling booths in Gorkha district and polls were disrupted briefly by clashes in Jumla and Dailekh districts, the EC said.
Home Ministry spokesman Shankar Koirala 37 people were arrested for trying to foil the balloting. "The members of the dissenting bloc tried to obstruct the elections at many places but all in vain," he told the media.
The polls will lead to the formation of a 601-member assembly to draft a new Constitution, including 240 elected under a direct voting system. There was proportionate voting for 335 seats and the remaining 26 members will be nominated by the government.
Results under the direct voting system are expected in a week and those under the proportionate voting after a fortnight, officials said earlier.