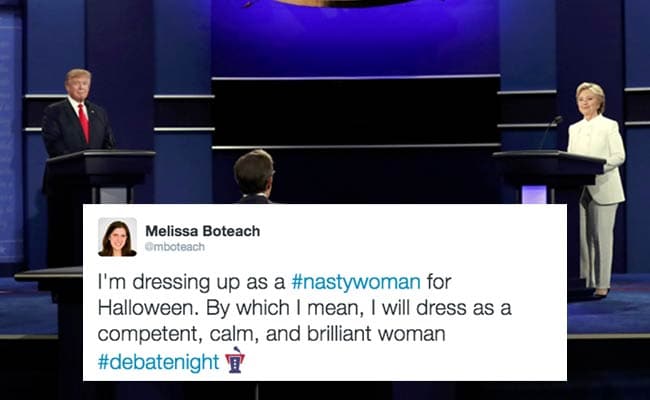 There were many fiery exchanges between Hillary Clinton and Donald Trump in the final US presidential debate on Thursday morning. One particular comment from the Republican candidate has left most of Twitter enraged.
Not long after insisting "nobody respects women more than me", Trump muttered "such a nasty woman" when Hillary Clinton was describing her plan to raise taxes on the wealthy.
"My Social Security payroll contribution will go up, as will Donald's - if he can't figure out how to get out of it," Hillary had quipped.
'Nasty woman' soon became a trending topic on Twitter.
I'm dressing up as a #nastywoman for Halloween. By which I mean, I will dress as a competent, calm, and brilliant woman #debatenight

- Melissa Boteach (@mboteach) October 20, 2016
I'm a #nastywoman because I want to be treated as a human being#debatenight

- Peggy Ward, Ph.D. (@PeggyatKC) October 20, 2016
Well behaved women rarely make history #nastywomanpic.twitter.com/fEoKIfbjyO

- Ruth Lapointe (@Ruth1Lapointe) October 20, 2016
Just updated my Twitter profile to say I'm a #NastyWoman. Can't wait for Election Day. #DebateNight

- Leta Hong Fincher (@LetaHong) October 20, 2016
Nasty Woman is code for: intelligent, confident, hard-working, prepared, experienced. #debatenight#nastywoman

- Nasty Woman Radida (@RadidaG) October 20, 2016
Meanwhile, just outside the #nastywoman t-shirt factory and gift emporium: pic.twitter.com/OIqVP3e5sr

- Valerie Schremp Hahn (@valeriehahn) October 20, 2016
Blurt #nastywoman into a microphone and women are lining up like this for @HillaryClinton. We'll see you on election day Trump. pic.twitter.com/Q24eETHgDj

- Elsa Roberts (@furioelsa) October 20, 2016
You know what a #NastyWoman is good at? Voting. #debatepic.twitter.com/T4DDbNC8cY

- Alanna Vagianos (@lannadelgrey) October 20, 2016
Make women nasty again.#nastywoman#debate

- amber ruffin (@ambermruffin) October 20, 2016
This #nastywoman has a ballot and will vote.

- Catherine Ertz (@mckertzee) October 20, 2016
I was #ReluctantlyWithHer all this time but tonight DT let me know that HC was a nasty woman. We gotta stick together so... #NastyWoman

- Mrsaanis (@mrsaanis) October 20, 2016
Looking forward to showing trump just how nasty we women can be when we destroy his joke of a bid for the presidency Nov 8th #nastywoman

- Sarah Thuo (@SarahNThuo) October 20, 2016
Um, another Halloween Costume Idea: Dress as a "nasty woman" & look SUPER EMPOWERED #NastyWoman

- Arianna Vazquez (@JustSayAri) October 20, 2016