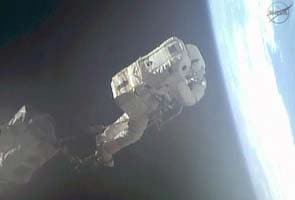 Florida:
A spacewalk to work on the International Space Station abruptly ended on Tuesday when water started building up inside an astronaut's helmet, NASA officials said.
US astronaut Chris Cassidy and Italy's Luca Parmitano were less than an hour into a planned six-hour outing when Parmitano reported water inside his helmet.
"My head is really wet and I have a feeling it's increasing," Parmitano radioed to flight controllers in Houston.
The cause of the leak was not immediately clear.
Parmitano headed back into the station's airlock, while Cassidy hastily cleaned up equipment and prepared to join him. Parmitano remained inside the airlock still in his spacesuit, with the situation apparently worsening.
"It's a lot of water. It's saturated and in his eyes and mouth," Cassidy, relaying a message from Parmitano, told Mission Control in Houston.
Staying calm, Cassidy, a former Navy SEAL, quickly ran through check lists and packed up equipment.
"I don't want to make a mistake and make it worse," he radioed to flight controllers.
Back inside the airlock, Cassidy kept a close eye on his partner while the chamber was re-pressurized. Parmitano could no longer use his spacesuit's communications system.
"He looks miserable, but OK," Cassidy said.
© Thomson Reuters 2013