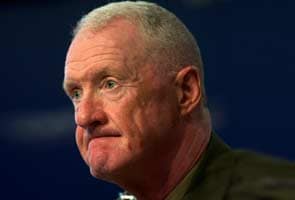 Washington DC:
A top US general on Thursday said Taliban leader Mullah Omar should be "worried" after US forces killed Osama bin Laden, predicting the raid would damage the Afghan insurgency's morale.
Major General Richard Mills, who recently finished his tour commanding Marines in southern Afghanistan, said the assault on Bin Laden's compound in Pakistan demonstrated "that we don't leave our missions."
"Once we've targeted you, we're going to maintain our focus on you until the mission's accomplished," he told reporters.
"If I was Mullah Omar I would certainly be worried. It shows the Americans are focused," the general said.
Omar is the one-eyed spiritual leader of the insurgency who presided over the 1996-2001 Taliban regime in Kabul, which was toppled in a US invasion for its support of Al-Qaeda.
Mills said the death of bin Laden would undermine the morale of the insurgents fighting the Kabul government while giving a "tremendous" boost to troops in the NATO-led force.
"I think that has to have a psychological impact on the leadership of the insurgency that's caused the trouble in Afghanistan," he said.
He also said the demise of Bin Laden would have a tactical effect in the war, jeopardizing continued financial support to the Taliban from Al-Qaeda militants in neighboring Pakistan
A trove of hard drives and computer files retrieved from Bin Laden's compound will help US forces target those providing material support to the Taliban, he added.