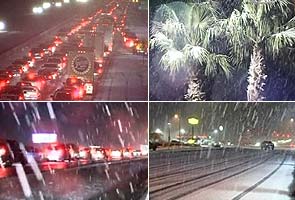 Los Angeles:
Snow and ice closed the main highway between Southern and Central California, stranding many motorists, as the first storm of the year brought freezing weather and treacherous roads.
The California Highway Patrol shut the Grapevine area of Interstate 5 shortly after 12:30 am (08:30 GMT) on Monday because of blowing snow and it remained closed six hours later because of icy conditions.
Authorities said the road was closed when cars began sliding across lanes. However, no major crashes were reported.
Freeways in the Antelope Valley, the desert area east of Los Angeles, also were icy and there was a winter storm warning for that area.
The National Weather Service says the storm will dump more snow as low as 15 hundred feet (450 metres) above sea level and will make it dangerous to travel through the Ventura and Los Angeles County mountains, the Antelope Valley and Santa Clarita Valley.