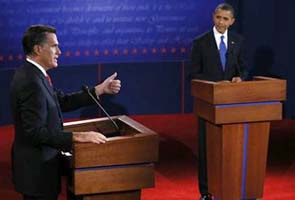 Concord, New Hampshire:
President Barack Obama and Republican challenger Mitt Romney sprinted to an unpredictable finish in the last 48 hours of a close White House race on Sunday, trying to turn out supporters and woo undecided voters in a handful of toss-up states.
The two rivals crisscrossed the country on the next-to-last day of a campaign that polls show is deadlocked nationally, although the president appeared to have a slight edge in the swing states that will decide who captures the 270 electoral votes needed to win on Tuesday.
After months of sometimes bitter attacks and saturation advertising in pivotal states, Obama and Romney pressed their arguments that they offer the best solution to a weak economy and partisan gridlock in Washington.
The two also made direct appeals for votes in a race that may come down to which side does the best job of getting its supporters to the polls.
"It's up to you. You have the power," Obama told a crowd of more than 14,000 people who filled the downtown streets of Concord, New Hampshire. "You will be shaping the decisions for this country for decades to come, right now, in the next two days."
In Iowa, Romney urged more than 4,000 people in a Des Moines hall to get out and vote - and convince undecided or former Obama supporters to back him while they are at it. At a later stop in Ohio, he said, "Let's make sure that we get everyone to the polls."
Romney, the former governor of Massachusetts, renewed his argument that he is the candidate who can offer change and reach out to the opposition party to craft bipartisan agreements.
"Accomplishing real change is not just something that I talk about. It's something that I've done," Romney told supporters in Des Moines. "And it's something I'm going to do when I am president of the United States."
Many polls show Obama with a slight but persistent lead in Ohio, Wisconsin, Iowa and Nevada - states that would give him more than the 270 electoral votes he needs, barring any surprises elsewhere.
"It's really a game of inches. It's extremely close, but things look pretty optimistic for Obama, I would say, if you do the electoral math," Ipsos pollster Julia Clark said.
A Reuters/Ipsos poll of four pivotal states showed Obama and Romney essentially tied in Florida and Colorado, with Obama holding a statistically meaningless lead in Virginia of 1 percentage point. But in crucial Ohio, Obama had 48 percent to Romney's 44 percent.
"Looking over the last few days, Ohio does seem to be more comfortably on the Obama side," Clark said.
The outcome of Tuesday's vote will impact a broad range of policy issues facing the president and Congress, including the looming "fiscal cliff" of spending cuts and tax increases that will kick in at the end of the year if a deal cannot be reached.
Thorny foreign challenges such as how to handle Iran's nuclear ambitions and the Syrian conflict await the winning candidate.
Control of Congress is also at stake on Tuesday, with Democrats now expected to narrowly hold their majority in the Senate and Republicans favored to hold control of the House of Representatives.

Barack Obama's swing state edge
Republicans said they see hope in early voting in key states, which mostly shows Democrats casting more early ballots but not at the pace that Obama set in his victory in 2008 over Republican John McCain by 7 percentage points.
"What we're seeing consistently ... is that there is a general underperforming in places where President Obama needs to do well and there's an over-performing in places where Governor Romney does well," Romney's political director Rich Beeson said on "Fox News Sunday."
Obama campaign adviser David Axelrod said Obama's early leads in states like Nevada, Iowa and the vital swing state of Ohio would hold up on Election Day, even if he does not repeat the size of his victory in 2008.
"I'm not suggesting we're going to win by the same margin we won in 2008. They are comparing themselves to John McCain, who had virtually no ground operation in many of these states," Axelrod said on "Fox News Sunday."
"So, yes, they are going to do a little better than McCain did, and we may not do as well as we did in 2008, but we're doing plenty well - and well enough to win this race," he said.
Obama and Romney made stops on Sunday in Ohio, perhaps the most important swing state. As Romney's plane arrived at the Cleveland airport on Sunday, Air Force Two carrying Vice President Joe Biden was leaving.
Ohio is particularly critical for Romney. If he loses the state, he would need a breakthrough in another state where polls currently show him trailing.
That reality helped fuel Romney's stop in Democratic-leaning Pennsylvania, where polls show the race has tightened but Obama still leads.
"The people of America understand that we are taking back the White House because we are going to win Pennsylvania," he told a raucous outdoor rally in the suburbs of Philadelphia, where a crowd estimated at 30,000 had waited hours to see him on a cold evening.
Romney advisers say the trip to Pennsylvania, where Romney only started advertising last week, was a sign of his momentum.
"The map has expanded," Romney senior adviser Ed Gillespie said on ABC's "This Week" program. "We have been able to expand into Pennsylvania while fully funding and staying current with everything we need to be doing in Florida and Virginia and Ohio."
The Obama camp said the Pennsylvania move was a sign of desperation from a campaign that realizes it cannot win enough electoral votes in the battleground states it has been contesting.
"This is a desperate ploy at the end of a campaign. To win Pennsylvania, Governor Romney would have to win two-thirds of the independents. He is not going to do that," White House senior adviser David Plouffe said on ABC.
Both candidates were getting plenty of help in the late stages from their running mates, Biden and Wisconsin congressman Paul Ryan. Obama also got help at his New Hampshire rally from popular former President Bill Clinton.
Ryan joined fans holding tailgate parties outside a Green Bay Packers football game in Wisconsin, then visited Minnesota - another Democratic-leaning state where Romney is making a late play.
While campaigning in Ohio, Biden joked that the end of Daylight Savings Time in the United States on Sunday was Romney's favorite day because he could officially turn back the clock.
© Thomson Reuters 2012