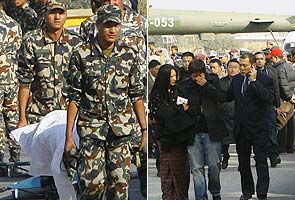 Kathmandu:
Helicopters scouring eastern Nepal for a small aircraft that went missing minutes after taking off a day ago located its wreck in a deep forest over 9,200 ft Thursday morning, raising fears that all 22 people on board had been killed.
The 9N AFXDHC6 aircraft flown by domestic airline Tara Air was carrying mostly pilgrims from eastern Nepal's Lamidanda airport in Khotang district to the capital when it lost contact with the airport authorities around 3 p.m. - about five minutes after taking off, aviation authorities said.
A major confusion arose Thursday over the identity of the 19 passengers on board, with media reports claiming that 18 of them were Bhutanese pilgrims.
The group was said to have falsely given their nationality as Nepali in order to escape having to pay the higher fares prescribed for foreigners.
Bhutan's Prime Minister Jigme Y. Thinley had contacted his Nepali counterpart, Madhav Kumar Nepal, to ascertain the truth of the reports.
There was uncertainty about the nationality of the 19th passenger, a male named Kelsang Choedak, though it was suspected that he too was Bhutanese.
The three-member Nepali crew included captain Anup Shakya, co-pilot Sachindra Shrestha and air hostess Sadiksha Gurung.
Ironically, Shrestha had been engaged to fellow co-pilot Sofiya Singh, who was killed in another air crash in Nepal in August.
The pilgrims, though mostly Buddhists, were returning from a celebrated Shiva temple in eastern Nepal.
The Civil Aviation Authority of Nepal said the two helicopters searching for the missing aircraft had finally located it, early Thursday morning, at Gouri forest in nearby Okhaldhunga district, where the plane lost contact.
It lay badly damaged at a steep height of nearly 9,200 ft above sea level, making immediate rescue operations difficult.
A police team had been rushed to search for survivors but given the high altitude and the cold, there was little hope that anyone had survived.
It is the second major crash in Nepal this year. In August, another small place carrying mostly foreign tourists, crashed near the Everest region, killing all 14 people on board.
Bad weather, difficult terrain and technical disasters have contributed to make domestic flying in Nepal unpredictable.