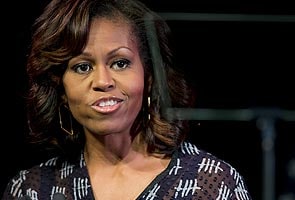 Johannesburg:
American First Lady Michelle Obama on Saturday challenged young adults in South Africa to channel the hope that former President Nelson Mandela held while imprisoned for 27 years during racist white rule.
As the nation continues to pray for Mandela, who has been hospitalized since June 8, the first lady also offered her prayers to the ailing anti-apartheid leader she said had "laid the foundation for all of us."
"Our thoughts and prayers are with President Mandela and we hold him and his family in our hearts," she told the 200 young adults who had gathered at the Sci-Bono Discovery Center in downtown Johannesburg.
The Obamas are in South Africa as part of a tour of three African countries. As President Barack Obama spoke to students at the University of Johannesburg's Soweto Campus, the first lady participated in a round-table discussion that was taped for an MTV Base Meets show, a series which connects young people with key influencers in various sectors.
Dozens of students from four US cities and Grammy award-winning singer John Legend joined in on the discussion via a Google+ Hangout.
Surrounded by four South African youths who have made significant contributions in their community, Michelle Obama shared her story of growing up without wealth and facing doubts that she could become successful. She urged students to not be overwhelmed by doubts, to become risk takers and to think about the legacy they will leave for the next generation.
"Now more than ever before, we need you guys to step up as leaders," she said. "We need you to be engaged in the pressing matters of our time."
Get Breaking news, live coverage, and Latest News from India and around the world on NDTV.com. Catch all the Live TV action on NDTV 24x7 and NDTV India. Like us on Facebook or follow us on Twitter and Instagram for latest news and live news updates.