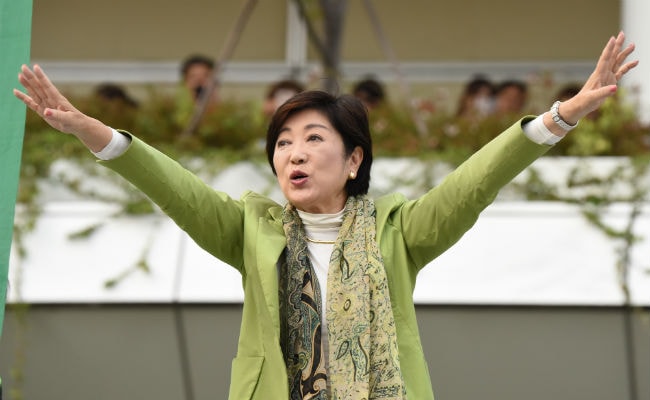 Tokyo:
Tokyo governor Yuriko Koike is a media-savvy veteran who has charmed her way through Japan's male-dominated politics and transformed its sleepy political landscape with a wildcard new party that caught everyone off-guard.
Often touted as Japan's potential first female prime minister, the charismatic former television anchorwoman combines a natural understanding of the media with a ruthless stomach for the fight, observers say.
A trailblazer who became Japan's first woman in key jobs like defence minister and governor of the capital, Koike has played on her natural appeal and reformist zeal to win over voters and some in the old-school political world.
Koike stunned the establishment last month by unveiling her new conservative "Party of Hope", seeking to offer an alternative to Prime Minister Shinzo Abe's long-ruling Liberal Democratic Party.
Displaying a knack for timing, she presented the new party in a blaze of publicity just hours before Abe himself declared snap polls, pulling the rug from under the premier's feet.
The telegenic 65-year-old certainly understands how to hog the media limelight -- just minutes before her news conference, she was being pictured alongside images of a baby panda, recently named in a Tokyo zoo.
And her first campaign video was classic Koike.
A woman presumed to be Koike -- viewers don't see her face -- in high heels and a snappy business suit barges her way past a bunch of stuffy old male smokers and leads a group of younger followers into the light.
Koike, who was elected Tokyo governor only a year ago, has complained that Japan has not just a glass ceiling but an "iron plate" holding women back.
"She is a person who clearly enjoys politics. She has a natural intuition," said Tomoaki Iwai, professor of Japanese politics at Nihon University.
"She is quick to make decisions. She doesn't dwell on things. She knows the media extremely well," said Iwai, who has known Koike for a long time.
"Because she is intuitive and not a plotter, she comes off as a good sport," he said.
'Cool biz'
Fluent in English and Arabic, Koike is an internationalist rarely seen in navel-gazing Japanese politics.
Born in 1952 in Ashiya city in western Japan, Koike attended the region's Kwansei Gakuin University before graduating from the Cairo University of Egypt in 1976.
After a stint as a translator, she worked as a television broadcaster, interviewing Libyan leader Moamer Kadhafi and Palestinian Liberation Organisation chair Yasser Arafat.
Harnessing her by-then nationwide fame, she first won an upper house seat in 1992 before switching to the more powerful lower house the following year.
She joined the LDP in 2002, and became environment minister in 2003 in the administration of the popular former PM Junichiro Koizumi.
From 2005, she began promoting "cool biz", pressing Japanese businessmen to take off ties and jackets during summer in a drive to cut down on energy used for air conditioning.
During Abe's first short stint as a prime minister a decade ago, Koike was tapped as his special adviser on national defence before being appointed the first woman defence minister in 2007.
But she had only lukewarm support inside the LDP and failed in her bid to become party chief.
In 2016, she defied LDP leaders and won a landslide victory against the party's candidate in the Tokyo gubernatorial election, portraying the long-governing party as being controlled by secretive, wasteful bosses.
She went on to batter the LDP again in the Tokyo assembly election in July.
Until recently, she has carefully maintained cordial ties with Abe, and vice versa, as they have to work together on putting on a successful Tokyo Olympics in 2020.
'Haphazard' policies
The creation of the "Party of Hope" sent shockwaves through Japanese politics and caused the immediate implosion of the main opposition party, as scores of members pinned their colours to the Koike mast.
But support began to melt away as she decided not to run herself, leaving potential voters in the dark as to who would be PM if she were to win.
Critics attacked her both for lacking a clear policy platform and for taking a dictatorial approach to the new party -- she reportedly forced potential members to sign a pledge that was leaked to the media.
"Slogans do not open the way to the future," Abe said pointedly on the campaign trail, even as Koike fought to point out differences with her former boss, pledging a phase-out of nuclear power by 2030 and a freeze on a proposed sales tax.
However, if her group were to win a few dozen seats in parliament, it could tip the balance of power, said political analyst Iwai.
"Mr Abe is not going away anytime soon. So she originally envisioned a small group, maybe five to 10 people, whom she could control remotely," Iwai said.
"Her policies may be haphazard. But a sense of unity would come once she gets people elected," he added.