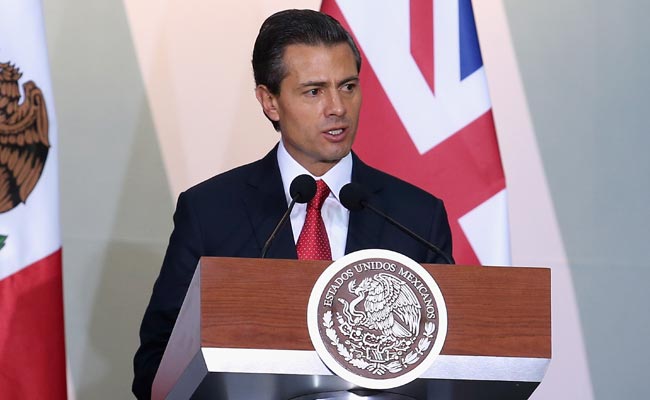 Mexico City:
Mexican President Enrique Pena Nieto's upcoming trip to China and Australia was another chance for him to flaunt ambitious economic reforms that have won him international praise.
He graced the cover of Time magazine this year with the headline "Saving Mexico." Visiting heads of state applauded his sweeping reforms. Investors cheered the breakup of a 75-year-old state oil monopoly.
But international attention returned to Mexico's horror show of drug violence after gang-linked police abducted 43 college students in the southern state of Guerrero on September 26.
Six weeks later, authorities said Guerreros Unidos gang hitmen confessed to slaughtering the students.
The suspected mass murder undermines Pena Nieto's assurances that violence is down and overshadows his attempts to focus Mexico's image on its economic transformation.
"It affects him negatively because Mexico had become very attractive for investors thanks to the reforms, especially in energy," National Autonomous University politics and security expert Javier Oliva told AFP.
"This obviously gives an image of instability," he said, adding that Pena Nieto could recover if he changes the militarized drug war strategy that he inherited from his predecessor.
The Iguala case comes on top of an alleged execution of at least eight gang suspects by soldiers south of Mexico City in June and the killing of three American siblings in northern Tamaulipas state last month.
When he flies to Beijing for his six-day trip on Sunday, Pena Nieto will leave behind a country shocked by potentially one of the worst massacres in a drug war that has left 100,000 people dead or missing since 2006.
Furious protesters torched several cars and threw firebombs at the Guerrero state government headquarters on Saturday.
The Mexican leader shortened his visit by four days due to the Iguala case, but his decision to leave amid a human rights disaster has drawn criticism.
"It's a bad idea for him to go. It's not necessary, especially in such a difficult time," Oliva said.
"It can fuel criticism. I can imagine the first photo with Chinese President Xi Jinping and Pena Nieto holding a glass of champagne, while parents are looking to bury their children."
Amnesty International said Pena Nieto's decision to carry on with his trip "shows the lack of interest in confronting the grave human rights situation in Mexico."
Political timing?
Parents of the students, all young men from a left-wing teacher-training college in Guerrero, suspect the government timed the announcement of the alleged deaths to allow Pena Nieto to leave.
"They want Pena Nieto to go on this trip," said Felipe de la Cruz, a spokesman for the families.
Relatives, who harbor deep distrust for the government, say they will only believe their children are dead when they get DNA results from international forensic experts.
Alejandro Hope, a security analyst and former intelligence officer, also questioned the timing of the press conference announcing the massacre -- on a Friday afternoon before the weekend.
"It appears that there was an attempt to manage the timing. I imagine they kept information for reasons that have more to do with politics," Hope said.
Pena Nieto's visit to China is the latest effort to forge closer bonds with the Asian powerhouse. Pena Nieto treated Xi to a lavish state visit last year.
But even before the tragic news of the students emerged, his trip was marred by his abrupt decision to cancel a multibillion-dollar bullet train contract that had been awarded to a Chinese-led consortium, which had entered the only bid.
The government said it would reopen bidding for the project after opposition lawmakers voiced doubts about the transparency of the process that granted the contract to the China Railway Construction Corp.
Pena Nieto will likely have to explain his decision directly to Xi during a two-state visit that will follow his participation in an Asia-Pacific Economic Cooperation (APEC) summit in Beijing.
He will then travel to Brisbane, Australia for the G20 summit but will only attend the first day of the two-day meeting that will put him face-to-face with world leaders who have praised his reforms.