Police are looking for a man who they said
opened fire at a Waffle House
restaurant near Nashville early Sunday morning, killing four and injuring several others.
The man arrived at the restaurant just before 3:30 a.m. and shot two people outside with a rifle, killing them, Metro Nashville Police Department spokesman Don Aaron told reporters. The man then went inside and fired several more shots, killing a third person, Aaron said.
Police later identified the suspect as Travis Reinking, a 29-year-old Illinois man who was investigated by federal officials, including the U.S. Secret Service, last July for being in a restricted area around the White House. Police said late Sunday morning that authorities are preparing arrest warrants on murder for Reinking, who is feared to be armed.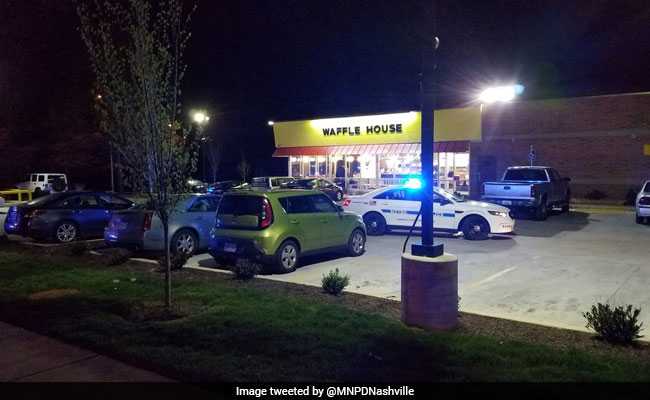 At one point during the shooting, Aaron said, a customer saw the gunman struggling with the rifle and wrestled the weapon away from the suspect and tossed it across the counter. The shooter ran away, taking off a green jacket a short distance from the restaurant and apparently walking nude in the area.
Police said that a man believed to be Reinking was last seen in a wooded area near an apartment complex less than a mile away from the Waffle House. He was seen wearing black pants and had no shirt on.
The search continued Sunday afternoon, when members of a SWAT team surrounded the apartment complex, a gated community just down the road from the Waffle House. Resident Dion Jones said Reinking lives in one of the buildings but said he doesn't know him.
Six people were shot, Aaron said. One of them - the fourth fatality - later died at Vanderbilt University Medical Center. Two others remain in critical condition at the medical center, hospital spokeswoman Jennifer Wetzel said.
TriStar Southern Hills Medical Center treated two other people associated with the shooting for minor injuries, and they have been released. Hospital spokeswoman Katie Radel said she can't say how the two were injured.
Police initially described Reinking, of Morton, Illinois, as a person of interest, but Aaron told reporters that witness descriptions of the gunman matched Reinking's picture.
"I think it's safe to say that person of interest and suspect in this matter is synonymous," he said.
"Individuals in this area need to know that this Travis Reinking is at large," Aaron added. "We're doing everything we can to find him."
Police have not detailed a motive for the shooting. Investigators also do not know why Reinking was in the Nashville area, more than 400 miles from his home town, or whether he has local ties. Aaron told reporters that investigators have reached out to Illinois law enforcement and have since learned that Reinking had been "known to associate with firearms."
A relative of Reinking's said the family has no comment.
Aaron said he does not have information yet on the identities of the victims, or whether they were customers or employees.
Police shared a photo of the weapon, an AR-15 style semiautomatic rifle, which shows the gun with its safety off.
Chuck Cordero told local media outlets that he saw the suspect get out of his pickup truck - nearly naked - and immediately begin shooting.
"When I saw him get out of his pickup truck, all he had on was his jacket ... No sock, no shoes, no underwear. Just a jacket and an assault rifle," Cordero told Fox affiliate WZTV.
As Cordero hid under his car, he watched the gunman fire a few shots through the restaurant's glass windows before he went inside, he said. After moving farther away from the restaurant, Cordero watched a customer wrestle the weapon away from the suspect.
Aaron, the police spokesman, described the customer as a "hero" who likely saved several more lives.
"Had that guy had a chance to reload his weapon, there was plenty more people in that restaurant," Cordero told local media.
That customer, identified by the Tennessean as James Shaw Jr., doesn't see it that way.
"I was just trying to get myself out," he told the Tennessean. "I saw an opportunity and pretty much took it."
Shaw Jr. said he and a few friends had left a fraternity house party and arrived at the Waffle House just minutes before the shooting. After the gunman fired a few shots, Shaw Jr. said he noticed that he needed to reload his weapon. That's when he tried to disarm the suspect.
"I grabbed the gun and kept it down," he said. "He had one hand on it. I pulled it away and threw it over the bar."
A bullet grazed Shaw Jr.'s elbow and he was treated at a hospital.
Nashville Mayor David Briley said in a tweet Sunday that it was a tragic day for the city "anytime people lose their lives at the hands of a gunman."
"My heart goes out to the families & friends of every person who was killed or wounded in this morning's shooting. I know all of their lives will be forever changed by this devastating crime," he said.
A spokeswoman for Waffle House said a team from its corporate office in Atlanta is headed to Tennessee to assist investigators.
"We are deeply saddened by this tragic incident. Right now, our first thoughts are with the victims and their families, and we will be there for them in this most difficult time ... This is a very sad day for the Waffle House family, and we ask everyone to keep the victims and their families in their thoughts and prayers," the company said in a statement.
The shooting occurred about two miles from a church where a masked gunman killed one person and injured several others in September. The shooting at Burnette Chapel Church of Christ in Antioch, Tennessee, left a 39-year-old woman dead.
Sarah Grace Taylor and The Washington Post's Herman Wong and Alex Horton contributed to this article.
(This story has not been edited by NDTV staff and is auto-generated from a syndicated feed.)
Get Breaking news, live coverage, and Latest News from India and around the world on NDTV.com. Catch all the Live TV action on NDTV 24x7 and NDTV India. Like us on Facebook or follow us on Twitter and Instagram for latest news and live news updates.