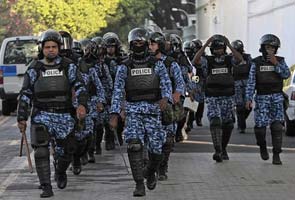 Male:
The former president of the Maldives, Mohammed Nasheed, faces arrest after being ousted from his post earlier in the week in what he says was "a coup at gunpoint". Here are the top ten developments in the recent crisis that has plagued the 1200-island archipelago:
A criminal court, headed by Justice Abdullah Mohamed, in the Maldives issued arrest warrants for ousted president Mohamed Nasheed and his former defence minister.Mr Naheed's supporters have now surrounded ousted his house to prevent an arrest.


Mr Nasheed's wife and children have flown to Colombo, Sri Lankan presidential spokesperson Bandula Jayasekara confirmed.


The ousted president of the Maldives said yesterday he had been forced out of power at gunpoint. Mohamed Nasheed, who in 2008 became the first democratically elected president of the archipelago resigned on Tuesday after three weeks of protests that culminated in a police revolt. The country's vice-president, Mohammed Waheed Hassan, took over.


New President Mohammed Waheed Hassan has denied claims there was a coup or a plot to oust Nasheed. The former vice president, he said he had not prepared to take over the country and called for a unity coalition to be formed to help it recover. On Tuesday, he appeared to be consolidating his power by appointing a new military chief and police commissioner. He later swore in defence and home ministers, the first members of his new Cabinet.


Pro-Nasheed protesters and the police clashed on the streets of Male, and elsewhere on the island chain. Speaking to about 2,000 wildly cheering members of his Maldivian Democratic Party in the capital, Male, Mr Naheed called for former vice president Hassan's immediate resignation and demanded the nation's top judge investigate those he said were responsible for his ouster.


Mr Nasheed's supporters have taken control of some small police stations but larger ones stayed under official control, official spokesman Amhed Shyam said. Residents told local reporters that as many as 10 police stations on smaller islands may have been seized.


The Maldives police, a key player in events that led to the resignation of president Mohamed Nasheed, accused his party of fomenting "terrorism" as violence spread across the holiday resort archipelago.


Mr Nasheed had on January 16 ordered the military to arrest the criminal court Chief Justice Abdulla Mohamed, saying he was blocking corruption and human rights cases against Former President Gayoom and his allies. That set off the protests that led to what Mr Nasheed's supporters 'coup' against Mr Nasheed.


Speaking to NDTV, Paul Roberts, the former advisor to Mr Nasheed, said, "India needs to get off the fence...India needs to decide who it supports." Indian troops were sent in to Male in 1988 when the then President Maumoom Abdul Gayoom faced a coup by mercenaries of the People's Liberation Organisation of Tamil Eelam.


The Maldives, a country of 1,192 Indian Ocean islands scattered across the equator, is famous for its upmarket holiday resorts and hotels that cater for honeymooning couples and high-end travellers.
(
With agency inputs
)