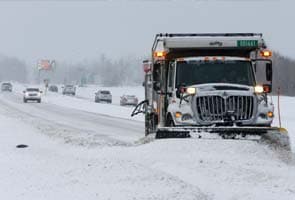 Kansas City, Missouri:
A major winter storm pounded the U.S. Great Plains on Thursday creating hazardous travel that resulted in at least one death, closing schools, scuttling air travel, and cutting off power to some communities.
Winter storm warnings and advisories were in place for much of the central and southern Plains and into the upper Midwest and Mississippi River Valley as the storm moved east, packing snow, sleet and freezing rain, the National Weather Service said.
Ice storm warnings were in effect for parts of northern Arkansas. The massive storm was expected to spawn thunderstorms and rain on its southern edge from eastern Texas to Georgia, the forecaster said.
Missouri Governor Jay Nixon declared a state of emergency because of hazardous travel and possible power outages. Kansas Governor Sam Brownback ordered state offices closed because of the storm.
Kansas City encountered an unusual mixture of snow, thunder and lightning, with 2 to 3 inches of snow falling per hour.
"When there is thunder and lightning, it's a pretty screaming clue that you are going to have massive snowfall," said Andy Bailey, a meteorologist with the National Weather Service in Pleasant Hill, Missouri. A foot of snow is likely there by Thursday afternoon, he said.
In Nebraska, a woman was killed in a two-car Interstate 80 accident Wednesday afternoon near Giltner. The victim was identified as Kristina Leigh Allen, 19, of Calloway, Nebraska. The Nebraska State Patrol said weather was a factor.
More than 90 percent of flights out of Kansas City International Airport were canceled Thursday morning, according the airport website.
Some 55 commuter flights were canceled out of Denver International Airport overnight, mostly due to adverse conditions in Midwestern destinations in Kansas and Nebraska, said spokeswoman Laura Coale.
About 30 flights in and out of Omaha's Eppley Airfield were canceled by mid-morning Thursday.
The brunt of the snowstorm churned through Kansas, causing scores of accidents and vehicles sliding off roads, but no fatalities, according to the state highway patrol. Two semi-trucks got stuck on Interstate 35 near Emporia, Kansas, closing the southbound lane Thursday morning, according to transportation officials.
"Most of the issues we are dealing with are people getting stuck in the snow on ramps when they go to exit," said Gary Warner of the Kansas Highway Patrol office in Wichita. Snow on Wednesday resulted in about 50 crashes with no injuries and 11 with injuries on Wichita area highways, he said.
Some parts of southeast Kansas reported power outages because warmer temperatures created sleet and ice on power lines, said Sharon Watson, spokesperson for Kansas emergency management services.
The snowstorm had been predicted well in advance, convincing schools and offices to close and keeping a lot of people off the roads, said Watson.
On the positive side, the snow also meant some relief for drought-stricken regions of the Great Plains, one of the world's biggest wheat-growing areas.
In Oklahoma, up to 12.5 inches of snow fell in northern parts of the state while schools were closed throughout the Oklahoma City area because of treacherous driving conditions.
Areas of southwest and central Nebraska received eight inches of snow overnight, according to the National Weather Service. Snowfall of three to four inches was widespread in central Nebraska.
Omaha and Lincoln in eastern Nebraska were bracing for about eight or more inches of snow.
Even as students were making their way to school this morning in Iowa, administrators in dozens of districts announced early dismissals.
Few of the 150 members of the Iowa General Assembly were in the state capitol in Des Moines this morning, deciding not to brave the weather.
Snow from the powerful storm fell as far south as Tucson, Arizona, on Wednesday. The rare snowfall halted play at the World Golf Championships-Accenture Match Play tournament near Tucson.
© Thomson Reuters 2013