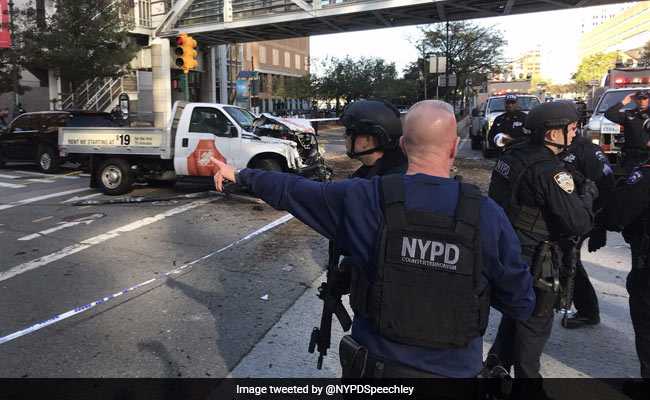 Several people have been injured in downtown Manhattan, and police confirmed that they were responding to reports of shots fired.
One person is reportedly in custody. The incident took place in the are of Chambers and West Streets in the upmarket TriBeCa neighbourhood.

Here are the live updates of the situation in Manhattan:
The driver of the truck, a male 29-years-old, was taken into custody. A paintball gun and pellet gun were recovered from the scene.

- NYPD NEWS (@NYPDnews) October 31, 2017
US President Donald Trump tweeted calling the New York attacker as 'very sick,' 'deranged person'
In NYC, looks like another attack by a very sick and deranged person. Law enforcement is following this closely. NOT IN THE U.S.A.!

- Donald J. Trump (@realDonaldTrump) October 31, 2017
The suspect reportedly held out imitation firearms when he stepped out of his vehicle.
The vehicle continued south striking another vehicle. The suspect exited the vehicle displaying imitation firearms & was shot by NYPD

- NYPD NEWS (@NYPDnews) October 31, 2017
The vehicle struck multiple people on the path. There are several fatalities and numerous people injured.

- NYPD NEWS (@NYPDnews) October 31, 2017
According to another witness, a white pickup truck was seen speeding down the West Side Highway, hitting several people on the way. The witness also reported hearing nine or ten shots being fired, but was unsure where they came from.
US media report a gunman opened fire from a vehicle near a high school. Witnesses say they saw a car crash and one person exit one of the vehicles with two guns before they heard shots being fired.