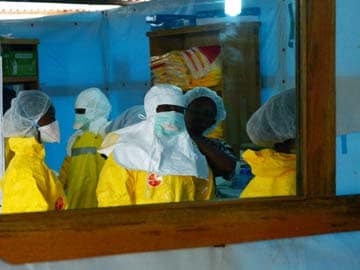 Monrovia:
Liberia has warned it may slip back to civil war along with neighbouring Sierra Leone if the Ebola epidemic ravaging west Africa is allowed to continue to spread.
Information Minister Lewis Brown said the lack of urgency in the international response risked allowing a breakdown of societies in the region, where the outbreak has claimed almost 3,000 lives.
"Hospitals are struggling, but so too are hotels. Businesses are struggling. If this continues the cost of living will go to the roof. You have an agitated population," Information Minister Lewis Brown told AFP late Monday.
"The world cannot wait for Liberia, Sierra Leone and Guinea, to slip back into conflict, which could be the result of this slowness in response."
More than 3,000 people have been infected in Liberia and almost 1,600 people have died, with health workers turning away people from treatment units due to chronic shortages of beds and staff.
Sierra Leone, where more than 1,800 have been infected and nearly 600 have died, said Monday it had "an overflow of bodies", after a controversial nationwide lockdown helped uncover more than 200 new cases.
The World Health Organization warned on Tuesday that the number of Ebola infections will triple to 20,000 by November, soaring by thousands every week if efforts to stop the outbreak are not stepped up radically.
Liberia has spent a decade recovering from two ruinous back-to-back civil wars which ran from 1989 to 2003, leaving a quarter of a million people dead and the economy in tatters.
Ebola threatening society
Sierra Leone, along with Liberia one of the world's poorest countries where half the population lives on less than $1.25 (0.97 euros) a day, is still struggling to recover from its own linked 11-year civil war which ended in 2002.
Guinea, where more than 600 have died, has not suffered civil war but has been plagued by deadly civil unrest in recent years between supporters of President Alpha Conde and the opposition.
"The effect of Ebola is being seen not just as a public health situation but it is also a political situation. Liberia is just ten years out of our conflict," said Brown.
"We are just in the 11th year since we started rebuilding our capacity to live together. This Ebola is threatening that capacity."
Liberia announced on Sunday a four-fold increase in hospital beds to 1,000 for patients in the capital Monrovia by the end of October.
But Brown told AFP the government needed 1,000 beds in ten Ebola treatment units across the country "immediately", and didn't have the cash.
"That is what is lowering public confidence in this fight (and) as a government, we simply cannot afford for our people to have dwindling confidence in our government to respond," he said.
"That is why we are urging the international community to assist us.
"If the population continues to see... that we are beyond our resource capacity to respond the way we would like to respond, it creates a sense of anxiety which can translate into urgency on the part of the population."