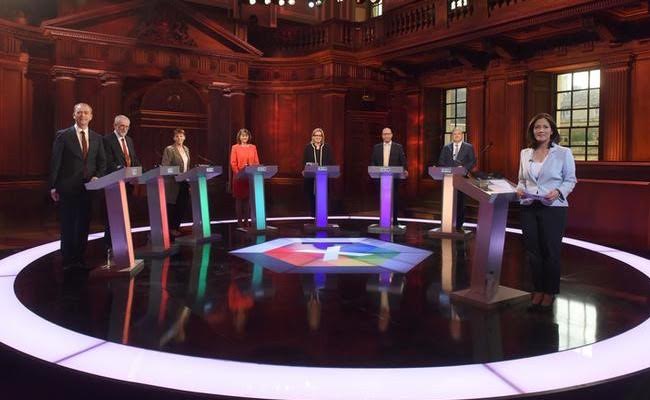 Yeovil:
After almost half the voters in Britain's referendum opted to stay in the EU, the only nationwide party with an unashamedly anti-Brexit stance believed its support would soar.
Instead the Liberal Democrats are languishing in the polls, more likely to lose than gain seats in next week's election. Surveys suggest many of the 16 million pro-EU Britons, far from wanting to fight last year's lost battle again, are resigned to Brexit.
Prime Minister Theresa May's Conservatives and the main opposition Labour Party have promised to take Britain out of the European Union. The Liberal Democrats, who were in the coalition government from 2010-2015, say they will give the country a second referendum on any final divorce deal.
"If you don't like the deal you should be able to reject it and choose to remain in Europe," Liberal Democrat leader Tim Farron said when he launched the party's policy proposals for the June 8 election.
Many "remainers" disagree.
"I voted to stay in. Immigration won't just stop like that which is what a lot of people voted for," administrative assistant Tracy Cox, 45, told Reuters in the town of Yeovil, once a Lib Dem bastion in southwest England.
"At the end of the day, we've voted and most people wanted out so I don't think a second referendum is going to make a lot of difference."
Riding a wave of support in 2010, the centrist Liberal Democrats won 23 percent of the national vote and took 57 of parliament's 650 seats, enough to propel them into coalition with the Conservatives under former prime minister David Cameron.
Five years later, the Lib Dems suffered the brunt of a public backlash against the coalition's austerity measures and anger that they had reneged on a pre-election promise not to raise university tuition fees. They won just eight seats and their share of the vote collapsed to eight percent.
Hung parliament?
An opinion poll on Thursday showed leftwing Labour gaining on May's Conservatives, raising the possibility of a hung parliament in which Liberal Democrat MPs, however few, might have some clout.
But this time round, the Lib Dems have ruled out a coalition with either the Conservatives or Labour. They had hoped their anti-Brexit message would restore their fortunes.
"Strategically it might not be as clever as they thought," said Charles Lees, a politics professor at the University of Bath. "They're actually fishing in a much smaller pool than they were a year ago."
Surveys show the party's support stagnant at around the same level as in 2015, and the future of the state-run National Health Service replacing Brexit as voters' top concern.
A YouGov poll last month found that 45 percent of Britons were "Hard Leavers", while 23 percent had voted to stay in the EU but now believed the government had to carry out the will of the people - so-called "Re-Leavers".
Only 22 percent were determined to stop Brexit, it found.
"Despite the Liberal Democrats stressing their pro-EU stance, this appears to be having limited effect," said Luke Taylor, Head of Social and Political Attitudes at pollster Kantar which put Lib Dem backing at 11 percent this week.
"Only 12 percent of likely voters that voted 'Remain' in the EU referendum currently plan to vote for the Lib Dems, compared with 35 percent for the Conservatives and 41 percent for Labour."
Yeovil, a market town in the rural county of Somerset, 130 miles from London, is symptomatic of the Lib Dems' struggles.
Captured by the party's former leader and elder statesman Paddy Ashdown in 1983, the Lib Dems held it until two years ago when they were defeated by the Conservatives as they lost all their 15 seats in the southwest.
"Wrong side of argument"
Much of the region voted strongly for Brexit in the 2016 referendum, putting the pro-EU party at odds with many of its core supporters.
"The decision to be anti-Brexit puts local Liberal parties ... on the wrong side of the big argument," said Lees, who described Yeovil as one of the party's "jewels in the crown".
Around the town, the only people voicing strong opinions on Brexit seem to be leavers. Some who voted for Brexit say they are happy to back the Lib Dems, and many remainers are content to support the Conservatives.
"I agree with Brexit," said cleaner Maria Kelly, 62, who has always voted Conservative in the past but is considering backing the Lib Dems next week. "But that's not a dealbreaker for me."
While a second EU referendum is the party's main issue nationally, local candidate Jo Roundell Greene does not even mention it on her campaign leaflets.
"People are concerned about local issues. It's much more schools and jobs. I think people are looking at other things," said Roundell Greene, granddaughter of Clement Attlee, Labour prime minister after World War Two.
"Brexit is not a huge issue, only one or two people are concerned," she told Reuters.
(Editing by Guy Faulconbridge and Andrew Roche)
© Thomson Reuters 2017
(Except for the headline, this story has not been edited by NDTV staff and is published from a syndicated feed.)