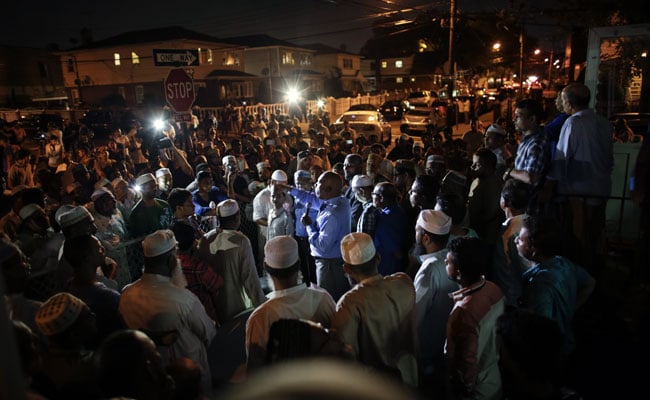 An imam and a second community leader were shot to death after leaving their mosque in Queens on Saturday afternoon.
The New York Police Department identified one victim as Imam Maulama Akonjee, 55. According to the Associated Press, the second victim was Thara Uddin, 64, who assisted Akonjee at the Al-Furqan Jame Masjid mosque. Both were shot in the head by a man who approached them from behind, police said.
The NYPD said Saturday evening that officers do not believe the imam and his associate were targeted because of their Muslim faith. "At this time, it does not look like it has anything to do with their race or their religion," Officer Tiffany Phillips told The Washington Post. Phillips would not say what police believe might be the motive for the shooting, or what evidence led officers to believe religion was not a likely factor.
Police said the two men were shot at about 1:50 p.m. at the corner of Liberty Avenue and 79th Street, three blocks from the mosque. Phillips said the men were apparently coming from the mosque when they were attacked.
Police have interviewed witnesses and have watched surveillance video of a man approaching the victims from behind and fleeing after the shooting, but have made no arrests.
According to AP's report, members of the Bangladeshi Muslim community served by the mosque expressed fears that whoever killed the two men had targeted Muslims, and they called on authorities to treat the shootings as a hate crime.
Scores of people attending a rally at the shooting site Saturday night chanted, "We want justice!" the AP said.
Shahin Chowdhury, a worshipper at the mosque, told the AP that members of the community had felt animosity lately and had heard people cursing while passing the mosque. Chowdhury said he had advised fellow community members to be careful walking around, especially when in traditional clothing.
He called the imam a "wonderful person" with a voice that made his Koran readings especially compelling, the wire service said.
© 2016 The Washington Post
(This story has not been edited by NDTV staff and is auto-generated from a syndicated feed.)