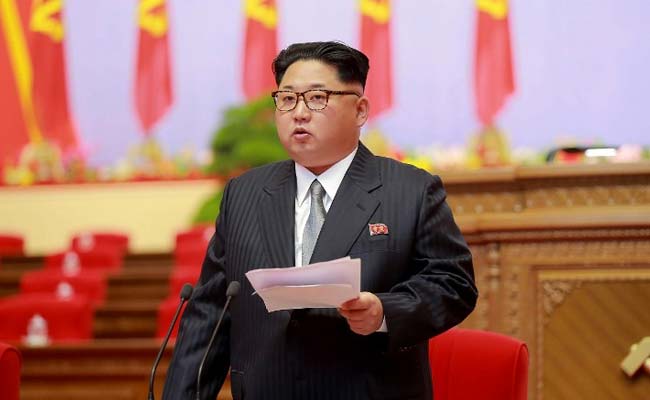 Pyongyang, North Korea:
North Korean strongman Kim Jong-Un was named chairman of the ruling Workers' Party today at a once in a generation congress seen as a coronation for the young leader.
Thousands of delegates, many in uniform, clapped and cheered enthusiastically as the country's official head of state, Kim Yong-Nam, announced the post at the first top-level meeting of the party for 36 years.
The speech was the first time foreign journalists allowed into the reclusive country to cover the congress have got a glimpse of the delegate hall, festooned in red and gold banners carrying the party's logo.
Kim departed from his usual black outfit as he appeared on stage, sporting a tailored Western suit and grey tie along with large, trendy glasses.
The congress, which opened on Friday, has given 33-year-old Kim a podium to secure his status as supreme leader and confirm his legacy "byungjin" doctrine of twin economic and nuclear development.
North Korea has carried out two of its four nuclear tests under Kim's leadership, most recently in January when it claimed to have tried out a powerful hydrogen bomb -- a claim experts have disputed.
There has been growing concern that Pyongyang may be on the verge of conducting a fifth test, with satellite imagery showing activity at the North's Punggye-ri nuclear test site.
Delegates to what is technically North Korea's top decision-making body on Sunday adopted his motion to "boost self-defensive nuclear force, both in quality and quantity".
The meeting also enshrined a policy of not using nuclear weapons unless the country's sovereignty is threatened by another nuclear power, and of working towards the reunification of the divided Korean peninsula.
"But if the South Korean authorities opt for a war... we will turn out in the just war to mercilessly wipe out the anti-reunification forces," said a document published by the North's official KCNA news agency.
Reiterating the North's long-held argument that its push for a nuclear deterrent was forced by US hostility, the congress said the nuclear weapons programme would move forward "as long as the imperialists persist in their nuclear threat".
Presenting his report to the congress in a marathon three-hour speech on Saturday, Kim said Pyongyang wanted better relations with previously "hostile" nations and proposed military talks with South Korea to ease tensions on their heavily fortified border.
'Propaganda with no sincerity'
The government in Seoul dismissed his remarks, including a vow to pursue global denuclearisation, as meaningless propaganda.
"There is absolutely no sincerity in talking about the necessity of military talks... while calling oneself a nuclear weapons state and launching nuclear and missile provocations," defence ministry spokesman Moon Sang-Gyun said.
Moon said the party congress had only served to reaffirm North Korea's intention to develop its nuclear arsenal, and added that Seoul would continue to counter those ambitions with sanctions and pressure.
The South Korean Unification Ministry was equally dismissive, describing Kim's remarks on improving North-South ties as a "propaganda act with no sincerity."
Kim was not even born when the last party congress was held in 1980 to crown his father, Kim Jong-Il, as the heir apparent to founding leader Kim Il-Sung.
When his own turn came, following the death of Kim Jong-Il in December 2011, the new young leader quickly set about cementing his power base and securing his legitimacy as the inheritor of Kim family's ruling dynasty.
One of his earliest moves was to adjust his father's "songun", or military first policy, to the "byungjin" policy of economic-nuclear development.
The nuclear half of that strategy had dominated the run-up to the party congress, starting with a fourth nuclear test in January that was followed by a long-range rocket launch and a flurry of other missile and weapons tests.
Some observers had predicted that the congress might switch the focus to the economic side of the equation, and Kim did unveil a five-year economic plan -- the first of its kind for decades.
But his report to the congress offered few details of the plan's policies or targets beyond general ambitions to boost production across all economic sectors, with a particular focus on energy production.