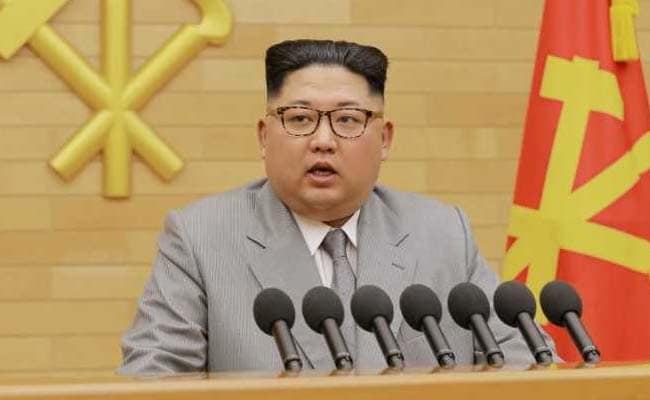 North Korean leader Kim Jong-un has agreed to meet US President Donald Trump at the demilitarized zone (DMZ) separating the two Koreas, an informed source told CNN in Washington.
South Korean President Moon Jae-in convinced Kim to meet Mr Trump at the DMZ
during their historic summit in the border village of Panmunjom
on April 27 that led to an agreement to denuclearise the Korean Peninsula and formally end the Korean War, the source said on Monday.
According to the source, there was a "strong possibility" the summit will be held at the site, with some events possibly scheduled on the northern side of the military demarcation line separating the two countries.
The venue makes the most sense logistically for Kim, the source told CNN, because media facilities and equipment are already in place, which could allow the summit to take place "in late May".
The idea of meeting at the DMZ was not a complete surprise to aides, since Mr Trump has been talking about it all weekend and raised it in his Sunday phone call with Moon, a senior US official told CNN.
Mr Trump loved the images from the Kim-Moon summit and the fact the entire meeting was televised, the official said. The US President wants to be involved in similar scenes when he becomes the first sitting US President to meet a North Korean leader.
Speaking to reporters on Monday, Mr Trump said he was enthusiastic about the idea of holding the summit in the DMZ.
"There's something I like about it, because you're there, if things work out, there's a great celebration to be had on the site, not in a third party country," he said.
Millions watched Moon's meeting with Kim, the first meeting between two leaders of North and South Korea in over a decade.
Cameras followed the leaders' movements throughout the day, from Moon's departure from Seoul to the moment Kim crossed the demarcation line into the south - and encouraged Moon to cross to the North.
However, administration officials were still arguing for Singapore as a possible location for the talks, telling Trump it presents a more neutral option, the source told CNN.
A close ally to the US during the Cold War and currently host to a US military presence, Singapore also has a diplomatic relationship with North Korea.
It is one of only 47 countries to feature a North Korean embassy.
Another option previously suggested by both sides was Ulaanbaatar, the sparsely-populated capital of Mongolia to the northwest of North Korea.