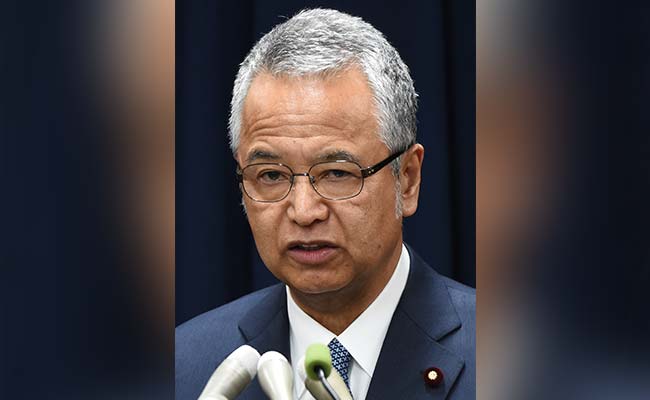 Tokyo, Japan:
Japan's economy minister resigned Thursday over a corruption scandal, dealing a blow to Prime Minister Shinzo Abe as he looks to build support for a massive trade deal and changes to the country's constitution.
Akira Amari's surprise resignation comes a week after the veteran politician was hit by claims in a weekly magazine that he and his staff had improperly accepted a 12 million yen ($101,000) bribe from a construction firm.
On Thursday, Amari -- the point man on a Pacific-wide free trade pact and a key face in Abe's bid to overcome Japan's decades-long economic malaise -- apologised for the scandal but rejected claims he pocketed the money.
"If that was true, it would have degraded my dignity not only as a politician but also as a person -- I wouldn't possibly do it," the 66-year-old told a nationally televised news conference as he choked back tears.
But "considering my responsibility as a member of parliament who has to oversee my secretaries, my duty as a cabinet member and pride as a politician, I will resign my post as of today".
Amari admitted envelopes filled with cash had arrived at his office, but said he ordered his secretary to deal with some of the money according to political donation rules.
He said the company refused to accept the return of some of the donations, and added that his secretary used about three million yen for "private use", without elaborating.
Amari did not say how much was received in total.
The Shukan Bunshun magazine said last week the construction company had sought Amari's help in settling problems with a quasi-public housing agency over damage caused by a road project.
It cited a company official as saying the firm had wined and dined the minister's staff and had given them gifts and envelopes stuffed with cash, including on two occasions handing a total of one million yen to Amari himself.
Last week, Amari acknowledged meeting with officials from the company, but said he could not recall the details.
'Avoid any obstacles'
Nobuteru Ishishara -- a one-time secretary general of the ruling Liberal Democratic Party and son of a former Tokyo governor -- was named Amari's successor.
The resignation comes with Japan looking to kickstart its moribund economy, with Amari saying: "The economy is now on the verge of getting out of deflation after 15 years."
"We need to enact a package of bills as quickly as we can to bring about a strong economy, and we need to avoid any obstacles to that -- I will not be an exception."
Abe -- who refused Amari's offer to resign in 2013 after he was diagnosed with tongue cancer -- had stood behind him when the scandal initially broke.
The resignation of a key ally, however, marks a blow for the premier as he seeks the cooperation of other parties to secure a two-thirds majority in the upper house this summer to make changes to Japan's constitution.
Abe is also looking to have the Trans-Pacific Partnership, which is to be formally signed in New Zealand next month, ratified by Japanese lawmakers during the current session of parliament.
The pact aims to create the world's biggest free-trade area, bringing together a dozen Pacific Rim countries including the United States, Japan and Australia.
Abe has lost three other ministers to political funding scandals since he swept to power in late 2012.
Such controversies are not uncommon in Japanese politics where the pork barrel reigns and rules on spending tend to be slightly opaque, barring little except explicit bribery and vote buying.