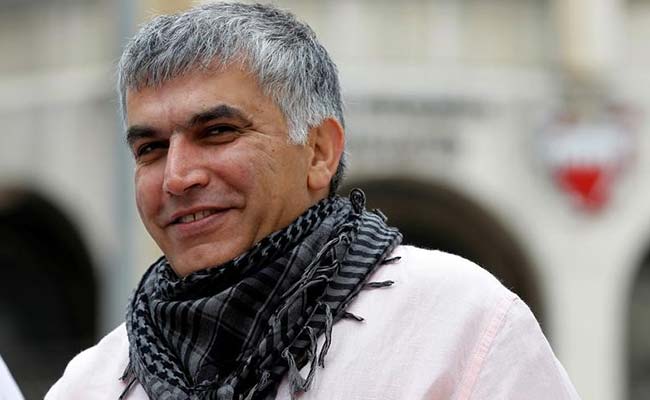 Dubai:
Jailed Bahraini rights activist Nabeel Rajab criticised U.S. President Donald Trump in a New York Times column on Wednesday for selling arms to his country and Saudi Arabia, citing of their human rights records.
The column appeared ahead of Trump's visit this weekend to regional power Saudi Arabia, a supporter of the fellow Sunni Muslim-ruled kingdom of Bahrain as it grapples with continued unrest from its Shi'ite majority.
Both countries have been fighting for over two years in Yemen against the Iran-allied Houthi movement, which they have yet to defeat despite launching thousands of air strikes.
"(Trump's) administration already decided to lift all human rights restrictions on arms sales to my country, Bahrain, which is a partner in the Saudi-led coalition fighting in Yemen," the column said.
"It fills me with shame that my country, Bahrain, is bombing Yemen, with United States support. And while the Saudi-led coalition continues its air assault on Yemen, Bahrain is also trying to crush
civil society back home."
The United States is close to completing a series of arms deals for Saudi Arabia totaling more than $100 billion, a senior White House official told Reuters this month.
There was no immediate government comment on the article.
Rajab and other mostly Shi'ite dissidents rose up against the government in 2011 protests inspired by the "Arab Spring", demanding more rights and representation.
He was denied bail on Tuesday on charges of spreading false news, a pro-opposition rights group reported, and also faces charges related to writing an op-ed in the New York Times last year, as well as charges of spreading false news and making critical tweets.
The United Nations Committee against Torture on Friday called for his release from more than nine months of solitary confinement.
Bahrain's government denies any systematic rights abuses and accuses the opposition of seeking its violent overthrow with support from arch-rival Iran.
Trump's White House has decided to pursue a $5 billion sale to Bahrain of 19 Lockheed Martin F-16 aircraft and related equipment, which was held up last year by human rights concerns.
Foreign Minister Sheikh Khaled bin Ahmed al-Khalifa told Reuters last month that Trump better understood the threat to the U.S.'s Gulf Arab allies than his predecessor Barack Obama.
© Thomson Reuters 2017
(Except for the headline, this story has not been edited by NDTV staff and is published from a syndicated feed.)