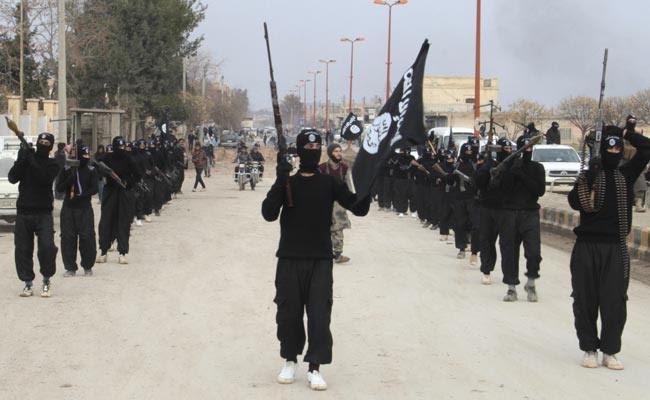 As unemployment worsens in strife-torn Afghanistan, the Islamic State has arrived to help the jobless with a lucrative new profession: terrorist.
The insurgent group has made significant headway in Afghanistan and is recruiting local villagers, as well as its enemy -- the Taliban -- to paid jobs in order to expand its influence across the north, according to local Afghan officials.
Hundreds of local villagers from remote areas of the Faryab and Jawzjan provinces and several Taliban commanders with more than 300 fighters have pledged allegiance to ISIS in the past six months, Mohammad Sami Khairkhowah, the head of provincial council of Faryab said by phone. They are paid above $500 monthly, thrice the wage of a government soldier, he said.
Several Afghan lawmakers confirmed the issue and expressed deep frustration over government's inability to stop it. The group is recruiting people "openly and publicly" in the region, Abdul Rauf Ibrahimi, the speaker of lower house of parliament, told lawmakers in a June session.
The revelations come as U.S. President Donald Trump struggles to define an Afghanistan policy and weighs an increase in troop levels in Afghanistan. U.S. generals have recommended adding as many as 5,000 troops to about 8,400 already there to train and assist Afghan forces. Defense Secretary James Mattis told American lawmakers in June the U.S. is not winning the 16-year-long war.
Regional Recruitment
The recruitment process is led by Qari Hekmatullah, who's been identified by the Afghan government as the regional leader of the Islamic State Khorasan Province (ISKP). He operates in the deserts of Dahst-e-Laili and mountains of Darzab district in Jawzjan province, which share a border with Faryab, Khairkhowah said.
"ISKP's aim is to establish a presence in the increasingly volatile north of Afghanistan and highlights the resilience of a group, which has recently lost leaders, fighters and territory," said Viraj Solanki, a research analyst for South Asia at the London-based International Institute for Strategic Studies, via email. The group's "appeal and brand is attractive for fighters, and the financial gains are also attractive for local villagers."
Their recruitment drive, along with the growing Taliban presence in the region "multiplies the challenges" for President Ashraf Ghani, Solanki said, and will determine "the nature of future U.S. policy towards Afghanistan."
Spillover Feared
The insurgents lost ground in their first-established foothold in the eastern Nangarhar province and in the south after operations by Afghan and U.S. forces. A U.S. airstrike killed the group's third leader Abu Sayed as well as his four senior advisers, U.S. military officials in Kabul said on July 31. And in April, the U.S. dropped its largest non-nuclear bomb on Islamic State hideouts in Nangarhar, killing as many as 100.
However it's feared the group may expand further into the country's north. For the first time since their emergence in 2014, it gained control of the Darzab district in June. Among the former Taliban commanders who switched allegiance to the Islamic State are Maulavi Assadullah, Mullah Sufi Qayum and Mullah Nemat Mufti, who brought with him 200 armed fighters.
The Islamic State targets young men who failed to find a government job or whose farm work does not cover their family expenses, lawmaker Fawzia Raufi, who represents Faryab in the lower house of Parliament, said by phone.
Others who leave the Taliban may simply see better opportunities with ISKP, said Afghan ambassador to Pakistan, Omar Zakhilwal. "Within the Taliban, it's not just one unified ideological group that will stick to its core instructions, there are lots fighters of opportunity, or of varying beliefs," he said in Islamabad last week.
On Aug. 5, Islamic State militants teamed up with newly-formed Taliban groups to attack Mirza Olang village in Sar-e Pul province, killing more than 50 people, according to Zabihullah Amani, the provincial spokesman.
Record Deaths
Security incidents by militants jumped 21 percent from March through May compared with the previous quarter, with more than 5,000 civilians killed or wounded in the first half of 2017, according to a July report by the Special Inspector General for Afghanistan Reconstruction, a U.S. watchdog. At least 2,531 Afghan forces were killed and 4,238 wounded from January through May, the report said.
Meanwhile, the amount of territory under government authority was down to about 60 percent, six percentage points less than a year earlier, with the rest controlled or contested by Taliban and other militants, according to the report.
The U.S.-led NATO forces commander General John Nicholson declared in June the size of ISIS had been reduced by two-thirds to 750 militants nationwide and vowed to eliminate them by year's end.
Still, Solanki said, "if they are able to establish a significant presence" in the north, it will "present a new challenge for the Afghan forces and U.S. forces' aim to defeat ISKP in 2017."
More than half of Faryab province is threatened by the presence of both militant groups, said the local lawmaker, Raufi.
"They're trying to embolden their strength with the recruitment of jobless villagers and the Taliban," Raufi said. "If that's not prevented, the entire north will be under significant threat because Faryab is the gateway to the region."
(This story has not been edited by NDTV staff and is auto-generated from a syndicated feed.)