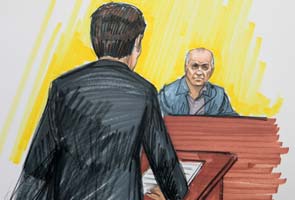 Chicago:
The testimony of David Coleman Headley, or Daood Gilani as he was known in Pakistan, is revealing more and more details that link Pakistan's Inter-Services Intelligence (ISI) to the 26/11 Mumbai terror attacks in which 166 people were killed.
Headley, a Pakistani-American, is the key witness in the trial of Tahawwur Hussain Rana, a Chicago businessman accused of helping coordinate the 2008 Mumbai attacks. He has already pleaded guilty to laying the groundwork for the Mumbai attacks and has agreed to testify against Rana to avoid the death penalty.
Earlier during the trial, Headley identified his ISI handler, the shadowy Major Iqbal, as Chaudhery Khan, the man with whom the Pakistani-American had several email exchanges. Headley wrote to him at the email id chaudherykhan@gmail.com. On being questioned about those mail exchanges, Headley told the court that Chaudhery Khan was Major Iqbal, the man Headley had identified yesterday as one of his ISI handlers. Major Iqbal is named as a co-defendant in the indictment. (
Read - ISI helped LeT carry out 26/11 Mumbai attacks: David Headley
)
Pakistan has so far maintained they cannot pinpoint any ISI officer known as 'Major Iqbal'.
The more than 20 emails exchanged between Headley and the man he says is Major Iqbal have been submitted as exhibits to the court by the prosecution in the Rana trial. In one of these emails, they discussed how to use Rajaram Rege, who Headley called a PR agent of the Shiv Sena supremo Bal Thackeray. Headley has also revealed a plot to kill Bal Thackeray. (
Read: Headley in plot to kill Sena chief Thackeray?
)
In an email on May 20 Major Iqbal writes to Headley on Rajaraman Rege asking, "What all advantages we can get from this person, except strengthening our cover?" In another email, a day earlier, Major Iqbal wrote, "What is the progress on the projects? Update me on cameras. I have got the orders of your car from the office."
These emails not only confirm that Major Iqbal used an id that went by the name of Chaudhery Khan, but that he was guiding Headley every step of the way during his recce in Mumbai.