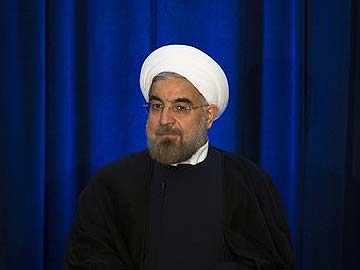 Dubai:
Iranians welcomed a nuclear deal between their leaders and six world powers on Sunday, hopeful the easing of certain sanctions would go some way to ending their deep economic pain.
The cost of basic goods in the oil-producing country has soared, investment has plummeted and unemployment has risen under the international sanctions imposed by United Nations and the unilateral measures of the United States and the European Union. A weak currency, the rial, has made matters worse.
The deal to curb Tehran's nuclear programme in exchange for limited sanctions relief will not allow any more Iranian oil into the market or let in Western energy investors.
But it may allow Iran access to $1.5 billion in revenue from trade in gold and precious metals, suspend some sanctions on its automotive sector, and allow petrochemical exports to revive.
The rial, decimated earlier this year due to sanctions, jumped more than 3 percent against the U.S. dollar on Sunday.
"I just heard the news now. It's great, it's really great. Many of the problems we have in Iran are due to sanctions. Now we can have hope again. We're really excited," said freelance graphic designer Ali, aged 29, who lives in Tehran.
The rial is expected to strengthen further.
In October 2012, the currency lost more than 50 percent of its value in a matter of days, forcing businesses to halt trading because exchange rates were so volatile and sending the economy into a tailspin that brought angry traders onto the streets.
"For the last few years, these politics have directly affected our economy," said Ali. "So far there has not been a lot of change, but this is just the beginning."
"Everyone's happy about this news," said an Iranian businessman in the IT sector in Tehran who imports computer equipment into Iran. "I heard about it first thing this morning when I got up. People are discussing it a lot.
"I'm optimistic," he said. "I hope it's going to be good news for the dollar rate and that business will pick up. If the rial gets stronger, we get stronger."
Hope and pride
Iran's rulers portrayed the agreement as a triumph for Iranian diplomacy and moderate President Hassan Rouhani's policy of "constructive engagement" with the world.
His election has ushered in calm and now Iranians hope the breakthrough on the nuclear issue will give him the means to put into practice his vision of getting the Islamic Republic back on its feet.
"Rouhani's able to bring stability to the currency. It's shown he can do it and he's done it. We'll definitely see progress," said the businessman who declined to be named.
"I am optimistic about the future as long as the administration of the country is in the hands of experts and people with experience," said Parastu, 22-year-old student in Tehran.
A post in Farsi by Iranian Foreign Minister Mohammad Javad Zarif on Facebook page announcing a deal had been struck received over 100,000 comments in a matter of hours. Some hailed the U.S.-educated career diplomat as a "national hero".
"Dear Doctor Zarif... Your efforts have filled the hearts of the whole nation with happiness. Be sure that your unparalleled efforts will not be forgotten by any Iranian," wrote one.
"I am writing this comment with my eyes filled with tears. Thank you for everything," said another. "You have restored hope in our hearts and pride in my country."
Political prisoners


Some were more cautious and questioned whether the agreement would have any practical impact on their lives.
"What difference will it make?" asked Amir MH Dudehaki on Zarif's Facebook page. "Will it reduce traffic? Will it improve the quality of petrol? Will it make the air clean? Will it make bread cheap? Will it reduce the rent on a house?"
There are few households costs that have not gone up in Iran in the last two years, the side-effects of a combination of sanctions and what many allege is economic mismanagement under hardline president Mahmoud Ahmadinejad who left office in August after two terms.
He launched a reform plan in 2010 to wean Iran off generous subsidies that pushed up the cost of basic goods several fold. While his plan was lauded by the International Monetary Fund, critics lambasted its timing and implementation.
Others directed their thoughts at domestic political issues, demanding the release of political prisoners and easing security controls against the population.
"We are still harassed by the Basij militia on city streets. They still hold up checkpoints in Tehran's posh districts to search cars for alcohol or harass unmarried couples for bribes or other purposes," said a 30-year-old dissident journalist in Tehran.
The election of Hassan Rouhani has healed some of the wounds inflicted by the disputed re-election of Mahmoud Ahmadinejad in 2009 that brought millions of opposition supporters onto the streets in protest.
Within two years, opposition leaders, Mirhossein Mousavi and Mehdi Karoubi were confined under house arrest, an ordeal that continues until this day. Despite some signs of improvement the situation is deeply complex and could drag on for some time.
"This is a sweet agreement, a domestic agreement should also take shape," said one Twitter post. "Political prisoners should be free."
© Thomson Reuters 2013